a
Naval Industry News - Canada
Government of Canada takes final step before building RCN Joint Support Ships
The Government of Canada awarded the design and production engineering contract for the Royal Canadian Navy's (RCN) Joint Support Ship (JSS). The Minister of Public Services and Procurement and the Minister of National Defence announced a $230 million contract with Seaspan's Vancouver Shipyards Co. Ltd. that will help develop and finalize the design of the Navy's JSS. Construction is scheduled to begin in 2018.

Royal Canadian Navy future Joint Support Ship. Picture: ThyssenKrupp Marine Systems
The JSS will allow naval task groups to remain at sea anywhere in the world for long periods of time without going to shore for replenishment. It will provide fuel, ammunition, spare parts, food, and water to Canadian and allied vessels. These modern ships will also support deployed forces with medical and dental care facilities, as well as helicopter repair capabilities.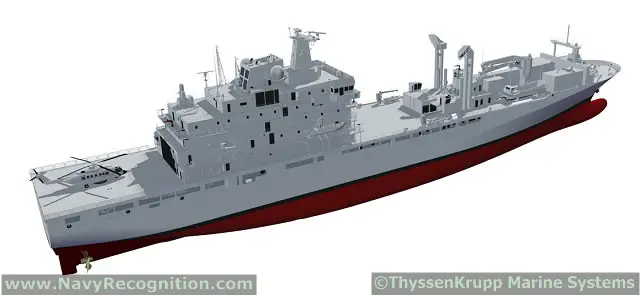 The JSS is based on based on the German Navy's Berlin Class Einsatzgruppenversorger (EGV – Task Force Support Ship). Picture: ThyssenKrupp Marine Systems
Royal Canadian Navy JSS:
The JSS project will build two ships with an option for a third one. The first ship is scheduled for delivery in 2021. The second ship is expected to be delivered in 2022.

The two JSSs will be the long-term replacement of the more than forty-year-old Auxiliary Oiler Replenishment vessels, Protecteur-class, which have been taken out of service. Both ships will provide core replenishment, limited sea-lift capabilities and support for operations ashore. Construction of the JSS by Seaspan's Vancouver Shipyards Co. Ltd. is expected to begin in 2018 after the completion of the Offshore Fisheries Science Vessels (OFSV) and the Offshore Oceanographic Science Vessel (OOSV).

An interim AOR ship will help sailors acquire and retain key skill sets needed to operate Queenston-class JSS once they are delivered.