---
Speaking on Monday at the keel-laying ceremony for the new Landing Ship Tank at DAMEN Shipyard Sharjah, in the United Arab Emirates, Chief of Naval Staff, Vice Admiral Ibok Ete-Ibas, said the new ship would play crucial roles in Nigeria's maritime security.
---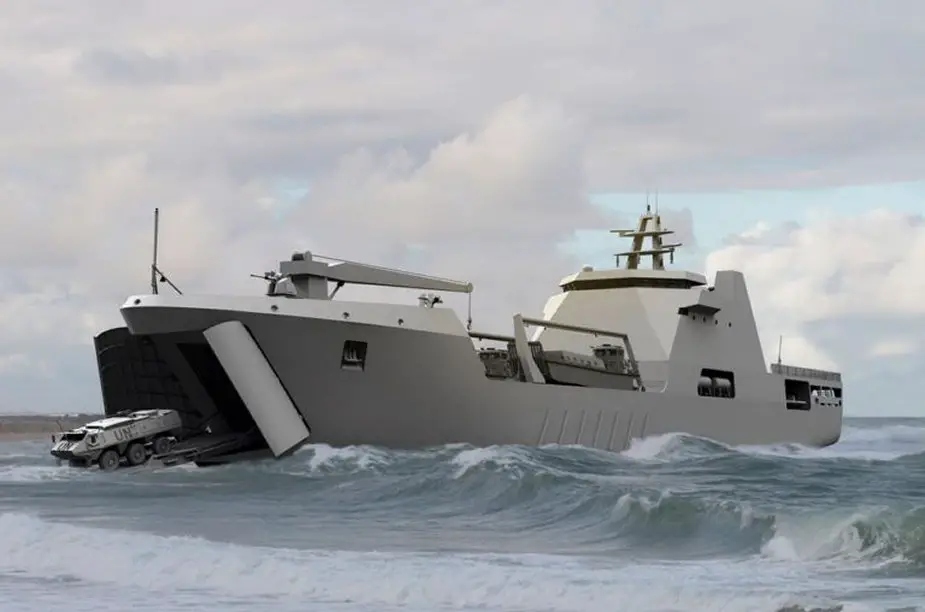 A Damen LST 100 landing ship (Picture source: Damen)
---
The keel-laying ceremony which took place at the DAMEN Shipyard Sharjah, in the United Arab Emirates (UAE), came 41 years after the federal government purchased two German 502 Amphibious vessels- NNS AMBE and NNS OFIOM which were decommissioned over 10 years ago.
"Today's ceremony is a significant step towards actualizing the dream of restoring the Nigerian Navy's sealift capability after the Service decommissioned two similar LSTs more than 10 years ago," Ibas said.
The bid for this project was highly competitive as several other shipbuilding companies tendered for her construction," Vice Adm Ibas was quoted as saying during the ceremony. "The selection of Damen Shipyards to execute the project was based on its track record of high-quality shipbuilding capacity [and] engineering, as well as a belief in the company's ability to adhere to the timeline for delivery of the ship."
Ibas pointed out that Damen Shipyards had already built two tugboats for the Nigerian Navy, the Dolphin Rima and Dolphin Mira, and these are still in service.
According to Damen, the landing ship vessel has been designed for amphibious operations, transport and logistics but secondary tasks include maritime security operations, humanitarian aid, disaster relief, search and rescue (SAR), operations command, mine countermeasure (MCM) and hydrographic survey operations and support.
The 1.3 tonnes LST 100 is 100 metres long, has a maximum speed of 16 knots and range at 15 knots of 4 000 nautical miles, with an endurance 15 days. A bow ramp allows for the direct transfer to and from beaches and is rated to 70 tonnes. The internal ramp is rated at 30 tonnes and the stern ramp 70 tonnes.
The vessel can carry two embarked LCVPs (landing craft, vehicle, personnel), a helicopter/UAV on the flight deck, unmanned undersea vehicles and miscellaneous cargo with a 25-ton deck crane. The crew is 18, but 27 additional personnel can be accommodated or 235 troops.
When completed and delivered, the LST is expected to play crucial roles in the security of Nigeria's maritime environment and beyond," Ibas said. "Specifically, the ship will be engaged in the protection of maritime resources and the preservation of law and order at sea.
Efforts are ongoing to acquire more helicopters for the Nigerian Navy air arm. Between 2015 and 2019, Ibas said the Nigerian Navy had acquired two offshore patrol vessels, the NNS Centenary and NNS Unity from China, a second locally built Seaward Defence Boat (NNS Karaduwa), six OCEA patrol boats (NNS Nguru, Shiroro, Ekulu, Ose, Gongola and Calabar) and more than 200 riverine patrol boats.
---