---
The U.S. Navy's first Zumwalt-class stealth guided-missile destroyer, USS Zumwalt (DDG 1000) departed San Diego, on March 8, for its first operational underway at sea.
---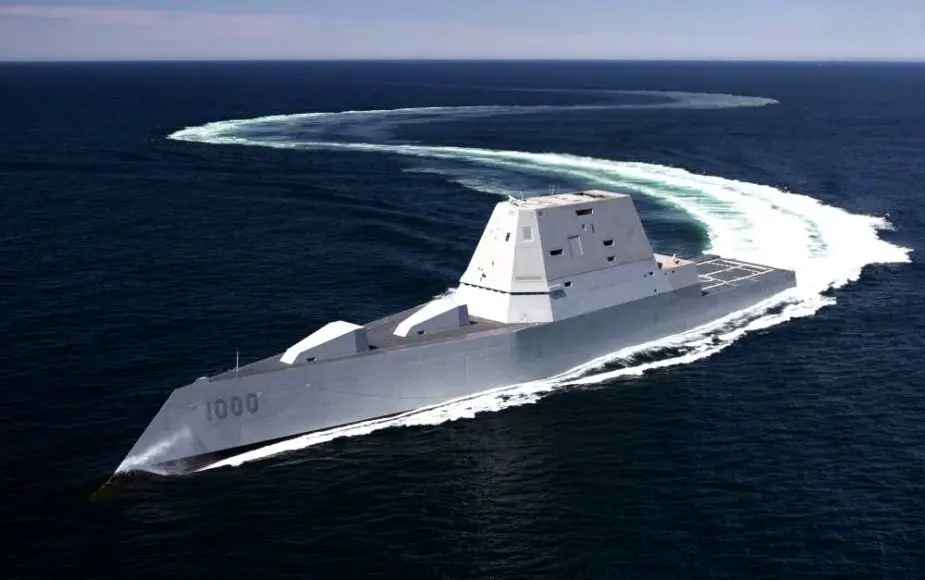 The USS Zumwalt (DDG-1000) stealth destroyer (Picture source : U.S. Navy photo courtesy of General Dynamics Bath Iron Works)
---
The milestone demonstrates the U.S. Navy's commitment to advancing the lethality of its surface combatants by integrating cutting-edge technologies in Zumwalt's combat systems, weapons, and engineering plants, said a Navy statement.
"Zumwalt is designed for stealth," said Capt. Andrew Carlson, the ship's commanding officer. "This aids her role as a multi-mission surface combatant and improves the fleet commander's options for delivery of naval combat power to meet the Navy's emergent mission requirements."
Zumwalt's crew recently completed a post-delivery maintenance availability designed to thoroughly evaluate the ship's systems and equipment to include radars and engineering plant.
"My crew has been looking forward to continued testing and operations at sea, leveraging the newly installed capabilities of this platform," said Carlson. "Our primary focus is executing a safe underway, while building both competence and confidence in operating Zumwalt across the spectrum of naval warfare."
The nearly 16,000-ton vessel was built by General Dynamics Bath Iron Works (BIW) in Bath, Maine. The ship is powered by two Rolls-Royce main turbine generators, two Rolls-Royce auxiliary turbine generators, two 34.6 MW advanced induction motors to speeds up to 30-plus knots.
USS Zumwalt is under operational control of U.S. 3rd Fleet and recently began its first operational period at sea.
In addition to that, the U.S. Navy recently commissioned its second Zumwalt-class stealth destroyer, USS Michael Monsoor (DDG 1001), during a ceremony at Naval Air Station North Island, California.
---