---
According to the announcement of the Ministry of Defence of Poland, the Polish Navy's second Kormoran II-class minehunter, the ORP "Albatros" (Pennant Number 602) was launched in a ceremony at Remontowa Shipbuilding on October 10, Gdańsk.
---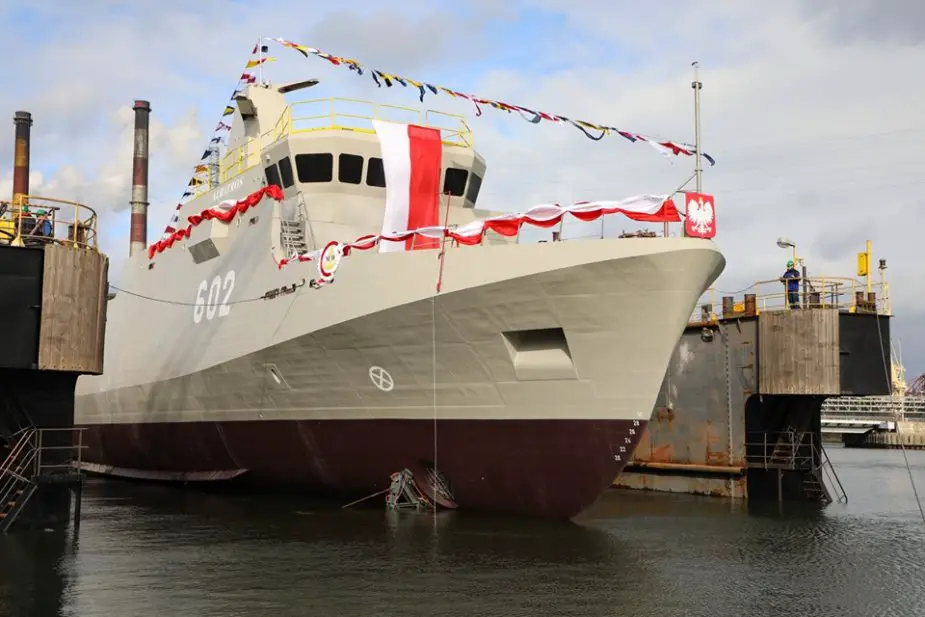 Poland launches second Kormoran II-class minehunter (Picture source: Polish Navy)
---
"Albatros" and "Mewa" are being built under a contract that was signed at the end of December 2017. The contract concerned the delivery of two Kormoran minehunters with three logistic support packages. The lead ship in the class, ORP Kormoran, was commissioned in November 2017.
On Thursday (10th October), a ceremony was held at Remontowa Shipbuilding, during which ORP "Albatros" was launched and baptized and the keel of ORP "Mewa" was laid. The position of the keel marks the completion of work on the first batch of unit components and the commencement of the hull assembly.
Kormoran-class minehunters are intended for joint operations conducted by the Polish Navy in the Baltic, the North Sea and other areas as part of NATO's joint maritime operations.
The main tasks of such ships are the search, classification and identification of sea mines, their destruction; leading ships through mine threat areas, mine protection, recognition of fairways, remote control of self-propelled surface mine platforms (trawls, sonar towing vehicles), searching for and combating diversion forces and means in the areas of ports and anchorages, participation in rescue operations.
The crew consists of 45 people. The main weapon of the prototype Kormoran is unmanned aerial vehicles for mine combat. The first ship of this series was armed with a 23 mm cannon, three large-calibre 12.7 mm machine guns and three Grom anti-aircraft missile launchers.
The non-magnetic steel-hulled ships displace 850 tons, feature the locally-developed SCOT-M combat management system and are equipped with Saab's Double Eagle Mk III remotely operated vehicle (ROV). They are armed with a twin-barreled auto-cannon in addition to machine guns and rocket launchers.
---