---
The Baltic Shipyard has made a superstructure for the first serial universal atomic icebreaker the Sibir of project 22220, the enterprise's press service said.
---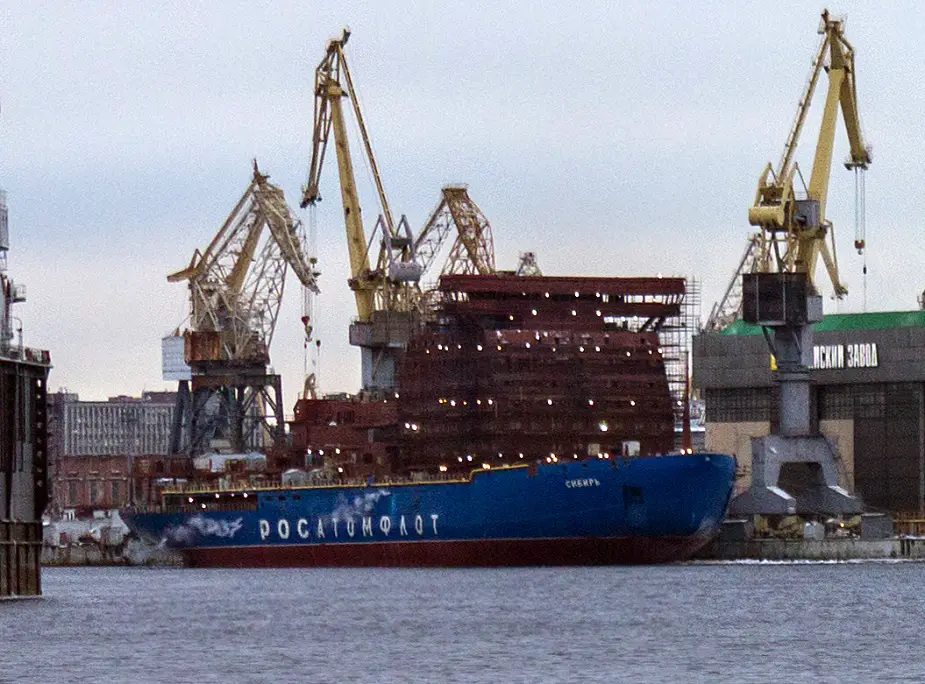 Sibir under construction at Baltic Shipyard in December 2018 (Picture source: Bestalex)
---
"After loading starboard and stroke side turbo generators the plant's shipbuilders installed the last block of the superstructure over the engine room. The shipbuilders finished one of the key stages of construction of the Sibir universal icebreaker on the float: the construction of the vessel's hull has been completed," it said.
At present, the Baltic Shipyard is mounting electrical metalworking equipment; tightening cables; installing the main electrical equipment and hydraulic control lines. The workers are also centering and mounting the loaded turbo generators. Receipt of electric power supply from the shore to the main distributing switchboard will be the next key phase of the construction.
The first serial atomic icebreaker of project 22220 is being built at the Baltic Shipyard on order from the State Corporation Rostec. The vessel was laid down on May 26, 2015 and floated on September 22, 2017.
Project 22220 nuclear icebreakers will be able to lead caravans of vessels in Arctic conditions breaking the ice of up to 2.8 meters thick on the move. The vessel's dual draft configuration will make it possible to use it in Arctic waters and in the estuaries of polar rivers. The icebreaker will operate in the western part of the Arctic: in the Barents, Pechora and Kara Seas as well as in more shallow waters in the estuaries of the Yenisey River and near the Obskaya Guba bay of the Kara Sea. The leading vessel of project 22220 - the Arktika - was laid down at the Baltic Shipyard in November 2013. The first serial icebreaker - the Sibir- was laid down in May 2015. The second serial icebreaker - the Ural - was laid down in July 2016. The water displacement of project 22220 icebreaker is 33,540 tons; the length is 173.3 m (waterline length is 160m); the width is 34 m (waterline beam is 33 m); minimal working draft is 8.65 meters; ultimate settlement is 10.5 m; the height is 52 meters. The power capacity of the front-side split power propulsion plant equipped with the RITM-200 power unit is 175 megawatts. The speed in clean waters is 22 knots. The maximum ice thickness broken on the move is 2.8 meters. The crew comprises 75 men.
---
© Copyright 2019 TASS. All rights reserved. This material may not be published, broadcast, rewritten or redistributed.
---