---
According to a press release published by the Croatian Brodosplit Shipyard website on August 10, 2020, the company held the cutting-steel ceremony marking the beginning of the construction of coastal patrol boats ordered by the Ministry of Defense of the Republic of Croatia.
Follow Navy Recognition on Google News at this link
---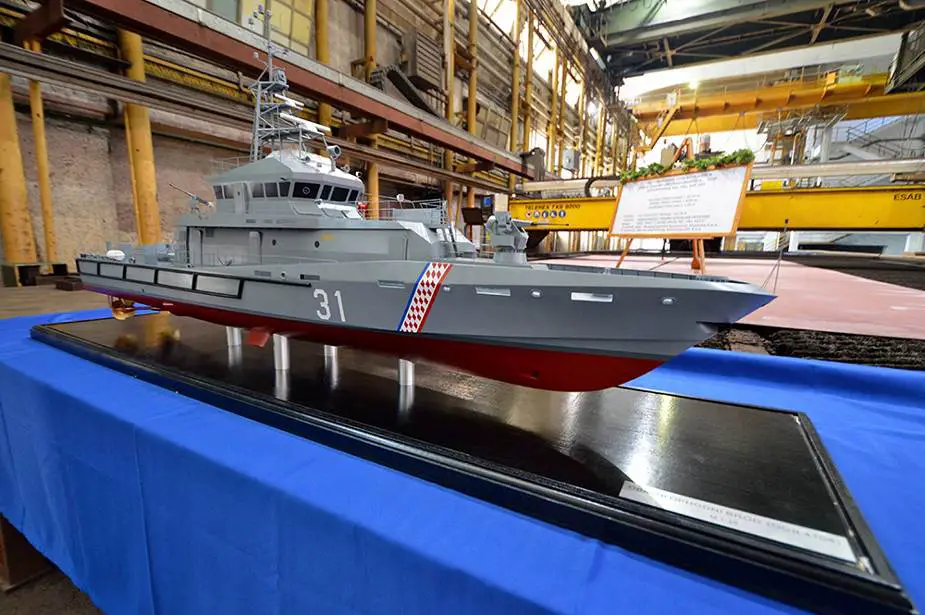 Scale model of the coastal patrol boat for the Croatian Coast Guard. (Picture source Brodosplit Shipyard)
---
The first ship will be delivered to the Croatian Coast Guard in 2021.
The Croatian-made patrol boat will have a length of 43,16 meters and a wide of 8 meters. She will be armed with one 30mm automatic cannon mounted at the front deck and two 12.7mm heavy machine gun, as well as four portable anti-aircraft missiles.
The hull of the coastal patrol vessels will be built of high-strength steel AH36, and an aluminum superstructure. The ship will have a crew of 16 sailors with a sailing autonomy of 10 days.
The ship is powered by two 2525 kW engines fitted with an active rocking stabilization system that allows the ship to be fully operational at sea 4 and to meet NATO maritime criteria (STANAG 4154). It can sail at a maximum speed of 15 knots with a maximum cruising range of 1,000 nautical miles.
The new coastal patrol boat is equipped with a CBRN (Chemical, biological, radiological and nuclear) protection system and 7.7-meter RHIB (rigid-hulled inflatable boat) able to carry 6 people.
---