Selex ES delivers ATOS surveillance kit for Beechcraft Maritime Patrol Aircraft (MPA)
| | |
| --- | --- |
| | After more than 80 hours of flight testing, Selex ES, a Finmeccanica company, have handed over to Corporate Aircraft SA, exclusive distributor of Beechcraft, purc hasing as prime contractor for an undisclosed end-user a Beechcraft King Air 350ER equipped with the company's Airborne Tactical Observation and Surveillance (ATOS) system. The end user has expressed their satisfaction with the system performance demonstra ted during the flight tests. |
a
Naval Defense Industry News - Italy, USA
Selex ES delivers ATOS surveillance kit for Beechcraft Maritime Patrol Aircraft (MPA)
After more than 80 hours of flight testing, Selex ES, a Finmeccanica company, have handed over to Corporate Aircraft SA, exclusive distributor of Beechcraft, purc hasing as prime contractor for an undisclosed end-user a Beechcraft King Air 350ER equipped with the company's Airborne Tactical Observation and Surveillance (ATOS) system. The end user has expressed their satisfaction with the system performance demonstra ted during the flight tests.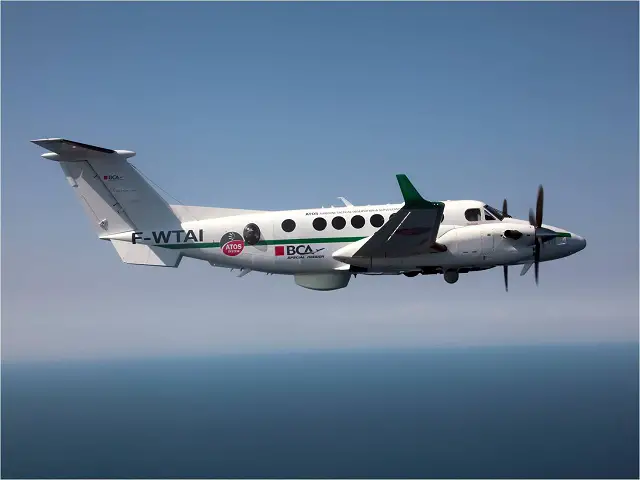 Beechcraft SKA 350ER MPA equipped with a retractable electro-optical system and ventral radome
Picutre: Finmeccanica Selex ES
Under the programme, Selex ES has been responsible for the design and integration of a complete surveillance solution for the customer's maritime patrol aircraft. The solution provided saw a Beechcraft SKA 350ER equipped with a retractable electro-optical system and ventral radome, all integrated together under the ATOS system.


Beechcraft King Air 350ER in MPA Surveillance configuration
Picutre: Beechcraft
The modifications, which have been certified by the European Aviation Safety Agency, grants the aircraft the capability to patrol for more than six hours, an equivalent performance to the VIP version of the aircraft.

The ATOS, which includes electro-optics, a laser illuminator and the T200 Gabbiano radar to provide 360 degree coverage, has been expertly integrated into the King Air aircraft by drawing on Selex ES's more than 10 years of experience with the system across a number of existing customers.