Lockheed Martin Longbow Missiles Demonstrate Littoral Attack Capability

a
Naval Defense Industry News - USA
Lockheed Martin Longbow Missiles Demonstrate Littoral Attack Capability

The U.S. Army and Navy, with assistance from Lockheed Martin, recently conducted Longbow missile demonstration firings to showcase the missile's ability to counter littoral threats, making the weapon an effective candidate for potential use in operational shipboard launches.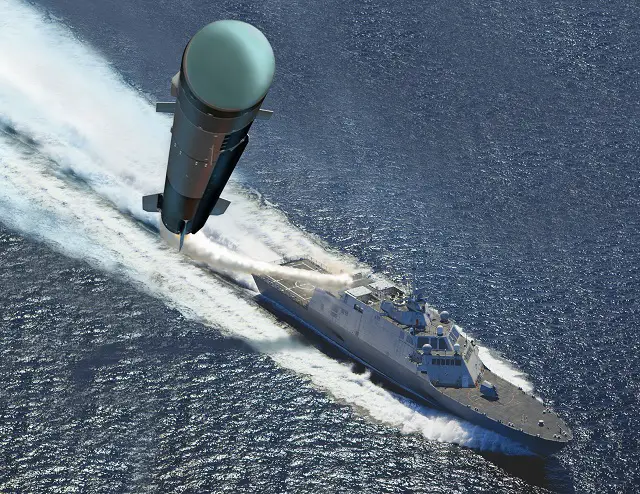 Artist impression: Longbow missile launched from a Freedom class littoral combat ship
Picture: Lockheed Martin

During the demonstrations, multiple U.S. Army Longbow missiles were fired from a launch fixture provided by the U.S. Navy aboard a 65-foot surface craft. The launches represented a variety of progressively more complex scenarios, with the missiles successfully engaging multiple incoming high-speed boat targets at a range of six kilometers.
This demonstration proved that the Longbow missile can counter fast-attack craft in realistic situations, representing an efficient path forward for shipboard launches with a weapon already in government inventory.
"This was the second demonstration firing conducted by the Army with Lockheed Martin assistance," said Hady Mourad, director of Advanced Programs at Lockheed Martin Missiles and Fire Control. "These firings showed the capability of the existing Longbow missile in a new littoral threat environment, and also verified the vertical-launch capability of the missile. Earlier this year, we demonstrated the use of Longbow from an Apache helicopter against a representative littoral target."
The fire-and-forget Longbow missile uses millimeter-wave guidance to lock onto targets before or after launch. The demonstrations were the first vertical launches of the Longbow missile and the first lock-on after launch of a Longbow missile against maritime targets.
The tests were conducted near Eglin Air Force Base, Fla., with the U.S. Army Aviation and Missile Research Development and Engineering Center and the U.S. Naval Surface Warfare Center, Dahlgren Division.