Russia Laid Down the 6th and last Kilo-Class Diesel Electric Submarine for Vietnam
| | |
| --- | --- |
| | The final Project 636 Kilo-class diesel-electric submarine for the Vietnamese navy under a 2009 contract was laid down Wednesday at Admiralty Shipyards in St. Petersburg, a defense industry source told RIA Novosti. "Today, we had the ceremony of laying down the sixth submarine for Vietnam. This is the latest submarine in this series," the source said. |
a
Naval Forces News - Vietnam
Russia Laid Down the 6th and last Kilo-Class Diesel Electric Submarine for Vietnam
The final Project 636 Kilo-class diesel-electric submarine for the Vietnamese navy under a 2009 contract was laid down Wednesday at Admiralty Shipyards in St. Petersburg, a defense industry source told RIA Novosti. "Today, we had the ceremony of laying down the sixth submarine for Vietnam. This is the latest submarine in this series," the source said.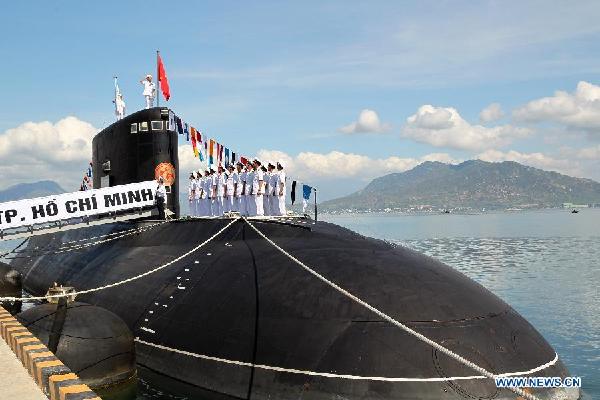 Vietnamese soldiers attend a flag-raising ceremony held for the first two submarines at Cam Ranh base, in the central province of Khanh Hoa, Vietnam, April 3, 2014. The HQ 182 Hanoi and HQ 183 Ho Chi Minh City submarines are two of the six Kilo-class submarines Vietnam purchased from Russia under a contract signed in 2009. (Xinhua/VNA)
Under the $2 billion contract, two submarines have already been delivered to Vietnam, the third is undergoing sea trials, a fourth was floated out in late March, and the fifth and sixth are now under construction.

"Two submarines have already been transferred to the Vietnamese Navy, the third is to be transferred this year and the remaining three in 2015-2016," according to the source.

The vessels are built at the Admiralty Shipyards, a leading enterprise of the Russian shipbuilding industry and part of the United Shipbuilding Corporation. Its military products include warships, especially nuclear and diesel-powered submarines, and large auxiliary vessels.

Unparalleled in her technical and operational specifications, the ship is designed to conduct effective anti-sub warfare along with the capability to engage surface ships and coastal targets of potential adversary striking operations both independently or as part of a larger task force. Increased output of the main propulsion plant allowed to enhance significantly her submerged speed alongside with endurance range up to 7500 miles. Furthermore, she is one of the world's quietest diesel-electric submarines providing guaranteed early enemy detection and long-range attack as well as evasive maneuverability and concealment.