Russia's Northern Fleet Slava Class Cruiser Marshal Ustinov Project 1164 in Dockside Trials
a
Naval Forces News - Russia
Russia's Northern Fleet Slava Class Cruiser Marshal Ustinov Project 1164 in Dockside Trials
The dockside trials of systems of the Northern Fleet's Project 1164 (NATO reporting name: Slava-class) Marshal Ustinov guided missile cruiser commenced at the Zvyozdochka Shipyard in Severodvinsk, the shipyard's press office informed TASS on Thursday.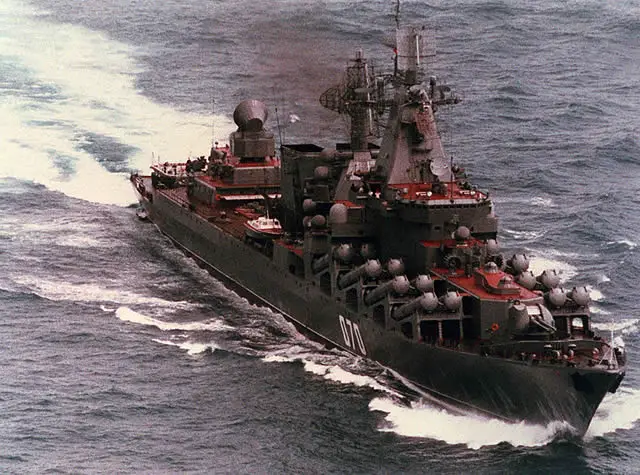 A starboard bow view of the Slava Class Russian guided missile cruiser MARSHAL USTINOV underway. Picture: US Navy

"Zvyozdochka and its subcontractors have launched the dockside tests of individual systems, mostly mechanical ones," the press office said.

As was reported in the press, the upgraded cruiser will be delivered to the Russian Navy in 2016. The Marshal Ustinov was laid down by the Nikolayev Shipyard in 1978, commissioned for service with the Northern Fleet in September 1986 and upgraded by the Severnaya Verf Shipyard in St. Petersburg in 1994-97. It has been undergoing normal repair since June 2011.

The Marshal Ustinov will be afforded an advanced missile system, probably, the Kalibr (SS-N-27 Sizzler) or Oniks (SS-N-26 Strobile). The upgrade will provide the cruiser with the Podberyozovik three-dimensional long-range target acquisition radar and Fregat-M2M sea-skimming target acquisition radar. There have been statements that the ship will not receive advanced air defense missile systems.

The Project 1164 Atlant-class cruisers are designed for dealing with enemy surface combatants and providing combat stability of Russian task forces in remote corners of the ocean. The development of the class began in the later 1970s. Four cruisers were built, of which three are in the Russian Navy's inventory. The cruisers in the class displace a total of 11,500 tons and measure 186 m in length. They have a full speed of 32 knots, a range of 7,500 nm at 18 knots, a 130-mm AK-130 gun, antiship and air defense missile systems, 30-mm AK-630M antiaircraft guns and torpedoes. They can carry a Kamov Ka-27 (Helix) helicopter or derivatives thereof.

© Copyright 2015 TASS. All rights reserved. This material may not be published, broadcast, rewritten or redistributed.