Updated: French Ministry of Defense orders 2 PLG Light Patrol Vessels for the Antilles-Guiana area
a
Naval Forces News - France
Updated: French Ministry of Defense orders 2 PLG Light Patrol Vessels for the Antilles-Guiana area
The French Procurement Agency (DGA) announced it has awarded a contract to french company SOCARENAM on December 19th for the construction of two Patrouilleurs Légers Guyanais (Light Patrol Vessel for Guiana or PLG) for the Marine Nationale (French Navy).
Patrouilleurs Légers Guyanais (Light Patrol Vessel for Guiana or PLG) for the French Navy.
Picture: Bureau MAURIC & SOCARENAM
These ships are dedicated to sovereignty missions and to protect French interests in the Antilles (French West Indies) and Guiana maritime area. One of the missions for the two PLGs will be securing the waters around the Guiana Space Center where the European Space Agency (ESA), the French space agency CNES (National Centre for Space Studies), and the commercial Arianespace company conduct regular launches from Kourou. Other missions will include the fight against illicit trafficking (fisheries police, narcotics trafficking), the protection of life and property at sea and fight against pollution.

The PLGs will be able to accomodate 14 people (special forces for example) in addition to 24 crew members. With a length of 60 m and a width of 9.50 m, a draft less than 3.2 meters, the vessel will be able to operate in shallow waters including the Kourou river. The patrol vessels can reach speeds of 21 knots with an endurance of 12 days at 12 knots.
Patrouilleurs Légers Guyanais (Light Patrol Vessel for Guiana or PLG) for the French Navy.
Picture: Bureau MAURIC & SOCARENAM
The two patrol boats will be equipped with light arms (20mm remote-controlled weapons, possibly Narhwal. Ed Note: Navy Recognition is still checking on this with Nexter and what looks like 2x manned 12.7mm guns behind the bridge). Their response teams will be projected using two RHIBs and can carry out control or coercion operations day and night, including during poor sea conditions.

For the design and PLG definition studies, Socarenam worked with MAURIC Ship Design specializing in naval architecture and engineering with offices established in Nantes and Marseille. Hulls and superstructures will be constructed by the shipyard Socarenam St. Malo, while fitting out will be made in the Boulogne-sur-Mer. CNN MCO company, established in Guipavas (Britanny), will ensure the work of operational maintenance of the two patrol boats during their first six years of service.

Delivery of PLGs are expected by the end of 2016 for the first unit and in the summer 2017 for the second.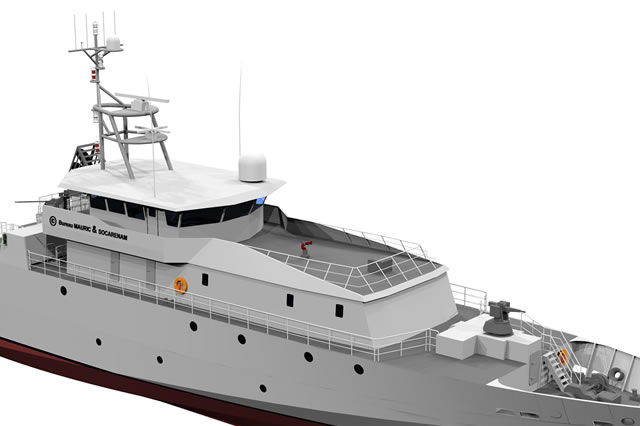 The main gun of the PLG is confirmed to be a NARWHAL 20B 20mm RWS by Nexter Systems. Note that the PLG is fitted with a 360 degree bridge. Picture: Bureau MAURIC & SOCARENAM
Two weapon stations are fitted at the back of the bridge for 12.7 mm and 7.62 mm machine guns.
Picture: Bureau MAURIC & SOCARENAM
Update 16/01/2015:
Contacted by Navy Recognition Nexter Systems confirmed that the Remote Weapons System (RWS) located forward is the Narhwal: "The two PLG Light Patrol Vessels built by SOCARENAM should both be fitted with a NARWHAL20B as main gun, in a similar configuration to the NARWHAL20B fitted on the French Navy FREMM frigates." a Nexter Systems spokeperson told us.

Contacted by Navy Recognition a DGA official gave the following additional details:
» PLG have two shaft lines, the propelling power will be about 6 MW, capable of crossing at least 3500 NM at 12 knots.
» The weapon stations for secondary weapons will be able to receive a choice of small caliber machine guns of 12.7 mm or 7.62 mm. PLG is also equipped with water cannon.
» The two on-board RHIBs will be identical. They will have an aluminum hull and a length of about eight meters.
» PLG will have several sensor systems (radars, projectors, optronic system) enabling it to intervene at any time, day or night.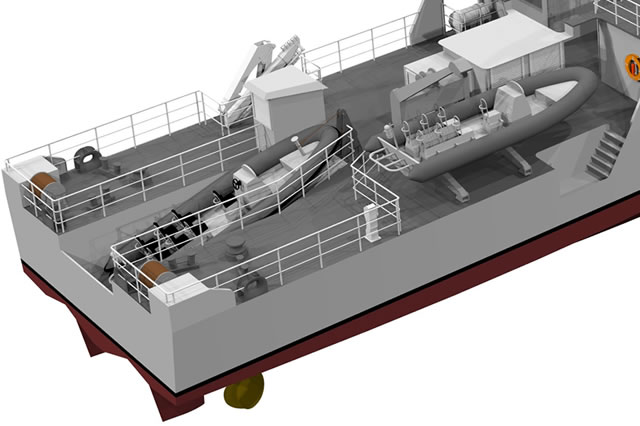 A ramp at the stern allows for quick launch and recovery of RHIBs while underway
Picture: Bureau MAURIC & SOCARENAM