China Launched its 8th Type 052D Destroyer while the 4th Started Sea Trials with PLAN

| | |
| --- | --- |
| | Based on several pictures that have been released by Chinese spotters, it appears that the People's Liberation Army Navy (PLAN or Chinese Navy) fourth Type 052D (NATO reporting name Luyang III class) destroyer started sea trials. In the meantime, another Type 052D was launched on November 28th. It is the 8th vessel in the class and the first one launched at the Dalian naval shipyard (Dalian Shipbuilding Industry Company member of CSIC - China Shipbuilding Industry Corporation). |
a
Naval Forces News - China
China Launched its 8th Type 052D Destroyer while the 4th Started Sea Trials with PLAN

Based on several pictures that have been released by Chinese spotters, it appears that the People's Liberation Army Navy (PLAN or Chinese Navy) fourth
Type 052D
(NATO reporting name Luyang III class) destroyer started sea trials. In the meantime, another Type 052D was launched on November 28th. It is the 8th vessel in the class and the first one launched at the Dalian naval shipyard (Dalian Shipbuilding Industry Company member of CSIC - China Shipbuilding Industry Corporation).

The fourth Type 052D Destroyer seen during sea trials.
Chinese spotter photo published November 22 2015.
The first vessel of of the class,
Kunming
(hull number 172)
,
was commissioned in
March last year
.
Changsha
(hull number 173)
, the second Type 052D Destroyer to join the PLAN, was launched just four months after head of the class Kunming but was commissioned much later, in
August this year
.
This could indicate that follow on ships of the class, starting with
Changsha
, have and will receive some modifications compared to head of class
Kunming
.
The third vessel of the class,
Hefei
(hull number 174) is expected to be commissioned in December 2015 or early 2016. It was announced in October in an
official bulletin
that the Destroyer's crew was in training.
Hefei
is set to be the first Type 052D to be belong to the PLAN East Sea Fleet. The first two vessels of the class belong to the PLAN South Sea Fleet and based at the Yulin Naval Base located in the Yalong Bay (city of Sanya) on Hainan island.
Hefei
was spotted at the same naval base in Fall 2015 likely conducting training there before commissioning.

The eighth Type 052D Destroyer was launched at Dalian naval shipyard on November 28 2015. It is the first one of the class for this shipyard.
At least 10 Type 052D Destroyers are expected to be built for the PLAN, most of them (80%) by Changxing Jiangnan naval shipyard near Shanghai. Recent pictures (see below) show more vessels of the class at various stages of completion.
The Type 052D
Kunming
class (Nato designation: Luyang III) is the latest generation of guided-missile destroyer (DDG) of the Chinese Navy. It is based on its predecessor, the Type 052C DDG and likely shares the same hull. However the Type 052D incorporates many improvements in terms of design as well as sensors and weapons fit. This new class of vessel is considered as the Chinese equivalent to the American AEGIS destroyers.
Link to Type 052D Kunming Class Destroyer technical datasheet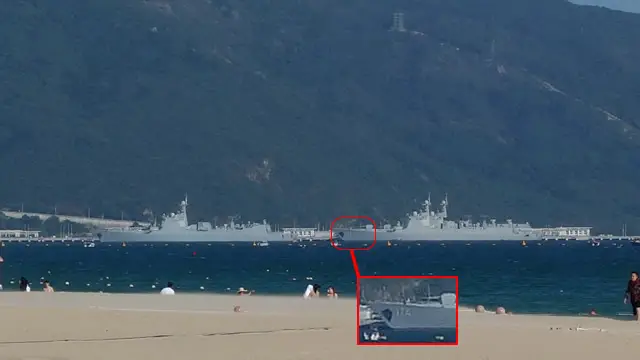 Recent chinese spotter pictures (November 2015) showing first ship of the Type 052C class Destroyer Lanzhou (170), left, and two Type 052D Destroyers including the third in the series, Hefei (174), right, at Yulin Naval Base in Yalong Bay on Hainan island.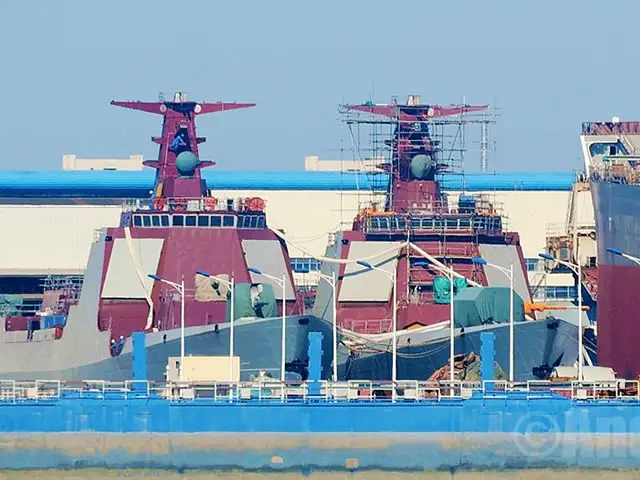 September 2015 picture showing two Type 052D Destroyer hulls in various stages of completion at the Changxing Jiangnan naval shipyard near Shanghai
.