DCNS Will Deliver the Two Former Russia Bound Mistral Class LHD to the Egyptian Navy
| | |
| --- | --- |
| | On October 10, DCNS signed with the Ministry of Defense of the Arab Republic of Egypt a contract for the supply of two Mistral class LHD (amphibious Projection and Command vessels). DCNS is currently building four Gowind® 2500 corvettes and deliered a FREMM frigate to Egypt in July. The latest agreement reinforces the strategic relationships initiated by the DCNS since 2014, with the Egyptian Navy. By 2020, the Egyptian Navy will implement a fleet of at least seven warships... |
a
Naval Industry News - France, Egypt
DCNS Will Deliver the Two Former Russia Bound Mistral Class LHD to the Egyptian Navy
On October 10, DCNS signed with the Ministry of Defense of the Arab Republic of Egypt a contract for the supply of two Mistral class LHD (amphibious Projection and Command vessels). DCNS is currently building four Gowind® 2500 corvettes and deliered a FREMM frigate to Egypt in July. The latest agreement reinforces the strategic relationships initiated by the DCNS since 2014, with the Egyptian Navy. By 2020, the Egyptian Navy will implement a fleet of at least seven warships designed and built by DCNS.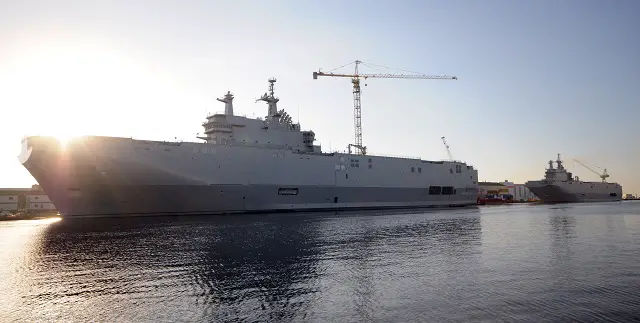 The two Mistral class LHDs for the Egyptian Navy. Picture: DCNS / STX
Hervé Guillou, CEO of DCNS, said:
"After the contracts for the supply of four corvettes Gowind® and a FREMM frigate, we are proud that the Egyptian Navy renews its confidence by signing today a contract for the delivery of two Mistral class LHDs. With already seven warships ordered to date and the latest generation frigate already in service, DCNS participates in the modernization of the Egyptian Navy defense capability. "
Both LHD ordered by the Egyptian Navy will join their home port by the summer of 2016 after the formation of future crews. This will intervene mainly in the first semester of 2016, in Saint-Nazaire.
Regarding the amphibious means associated with the LHDs, DCNS will deliver four new generation LCUs (CTM NG). These were designed by the Group as part of an integrated amphibious force system organized around the Mistral ships. Two
landing catamaran (L-CAT / EDAR)
designed and built by CNIM will also be delivered.
A long-term partnership with the Egyptian Navy
While the first of four future Gowind® corvettes of the Egyptian Navy is already in construction, the other three corvettes will be assembled in Egypt in Alexandria and the frigate FREMM Tahya Misr was delivered to the Egyptian Navy on June 23, 2015. The signature of this new contract further strengthens the strategic partnership developed between DCNS and the Egyptian Navy.
By 2020, the Group will have provided at least seven ships to Egypt, thus contributing to the modernization of its defense tool.
This strong partnership between the Arab Republic of Egypt and the French Republic is reinforced by the DCNS commitment to be alongside the Egyptian Navy for the longer term, particularly thanks to unwavering support dedicated service teams maintenance of major armed ships. The Group also registered their presence in a broader industrial cooperation project with the Egyptian party in the area of construction and maintenance of major units.
Once again, with this historic agreement, DCNS demonstrates its partnership approach with the Egyptian Navy, but also with the Egyptian shipyards with which the Group plans to build a lasting cooperation. Thus DCNS decided to invest with the Egyptian industry to jointly develop the skills and tools necessary to support a leading Navy.
Check out our technical datasheet to learn more about the Mistral class