a
Scorpène class SSK Submarine
Diesel-electric/AIP - DCNS

The Scorpene class submarine is a class of diesel-electric submarine jointly developed by DCNS of France and the Spanish company Navantia. Following a split between the two companies, Scorpène submarines are now solely marketed by DCNS and considered a French design. The class is currently used by Chilean and Royal Malaysian Navies, and has been ordered by Indian and Brazilian navies.

Scorpène submarines are designed in order to maximize stealth and feature very low acoustic, magnetic, electromagnetic and infrared signatures. To achieve this goal all machines and equipment are resiliently mounted on flexible couplings with double elastic mountings. Further noise-reducing focus includes the use of flexible cables and flexible through bulkhead couplings for joining pipes, and special low-noise emission components for rotating machinery.

Shiplist
| | | | |
| --- | --- | --- | --- |
| Country | Name | Hull Number | Commissioned |
| Brazil | TBD | S35 | 2015 |
| Brazil | TBD | S36 | TBD |
| Brazil | TBD | S37 | TBD |
| Brazil | TBD | S38 | TBD |
| Chile | O'Higgins | S22 | 09/2005 |
| Chile | Carrera | S23 | 07/2006 |
| India | TBD | S50 | 2015 |
| India | TBD | S51 | 2016 |
| India | TBD | S52 | 2017 |
| India | TBD | S53 | TBD |
| India | TBD | S54 | TBD |
| India | TBD | S55 | TBD |
| Malaysia | Tunku Abdul Rahman | - | 01/2009 |
| Malaysia | Tun Razak | - | 12/2009 |
Variants:
CM-2000: Conventional Diesel-Electric version
CA-2000: Downsized coastal patrol version
AM-2000: Version equiped with MESMA air-independent auxiliary propulsion (AIP) system
S-BR: Enlarged version for Brazilian Navy (75 meters long, 2,000 tons displacement, crew up to 45)
Technical Data
Back to top
Design
Pressure hull is made of HLES 80 steel permitting operating depths to 350 m. Some Scorpènes are fitted with two sets of Hagen batteries (depending on customer) totaling 360 cells. All machinery is "rafted" for sound isolation. The lower rudder is shorter to allow for "bottoming" on the sea floor. DCNS also offers Scorpène with an X-Rudder configuration like on Barracuda SSN.
The casing and sail are fabricated from GRP.

The single hull design is divided in three main sections on two decks:
» The bow section contains 6x 533 mm torpedo tubes, weapon magazines (allowing the class to carry up to 18 torpedoes and anti-ship missiles), the batteries and two ballast tanks. At least two of the torpedo tubes are fitted with a pneumatic ram positive discharge system for the launch of SM 39 antiship missiles and torpedoes. Depending on variants, the other tubes are of the swim-out variety.
» The midship compartment houses control room, accommodations, header tanks and auxiliary systems.
» The stern compartment houses the machinery and a second set of batteries. The stern compartment is fitted with two ballast tanks as well.
Weapons
6x NATO standard (533 mm x 7,10 meters) torpedo tubes to deploy:
» Up to 18 heavy torpedoes (SUT, F17, DMA2, F21...)
» MBDA SM39 Exocet anti-ship missiles
» 30 mines
» MBDA MdCN cruise missile (following validation trials onboard Barracuda SSN)
Sensors, Electronics and Decoys
- Combat Management System: DCNS SUBTICS (Submarine Tactical Integrated Combat System)
- Electronic warfare systems: Thales DR 3000 or ITT AR 900
- Periscope: Sagem Series 20 Attack Periscope System (APS) and Series 30 Search Mast System (SMS)
- Radar: Sagem Series 10 Compact Submarine Radar (CSR)
- Sonars: Thales S-Cube integrated sonar suite, including : Hull Array, Flank Arrays, Intercept arrays, and Passive ranging distributed arrays
Propulsion
Diesel-Electric, Batteries, and AIP. Electric propulsion: Jeumont-Schneider EPM Magtronic 2,800 kW AC

Equipped with the MESMA air-independent propulsion system, the Scorpène can remain submerged for periods in excess of 3 weeks.
The MESMA AIP (Autonomous Submarine Energy Module) is an electrical energy production module designed specifically for conventional submarines. As well as supplying electricity to the vessel and to the propulsion system, it can also be used to recharge the batteries without the need to come back to Periscope depth. The MESMA AIP quadruples the underwater range of a conventional submarine, which significantly extends its scope of action and enhances its stealth performance.
Specifications (without AIP)
Back to top
Type

Diesel-electric (optional AIP) SSK Submarine

Crew

31
Including 6 officers


Operators

Brazil - Chile - India - Malaysia

Performance

Top Speed: 20+ kts
Range: 6,000 nm @ 8 kts
Endurance: 60+ days

Displacement (submerged)

~1,700 tons (~1,750 tons Malaysian boats)

Engines

4x MTU 16V 396 SE84 (Chile)
or 4x SEMT Piesltick 12 PA4 V 200 SMDS

Designer

DCNS

Dimensions

Length: 66.4 m (67.5 m Malaysia)
Breadth: 6.2 m
Maximum Draft: 5.8 m (5.4 m Malaysia)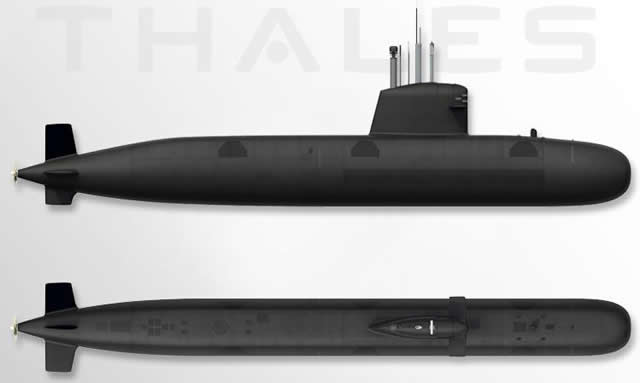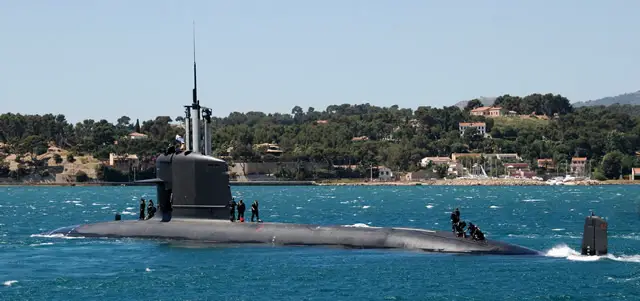 Back to top
O'Higgins Carrera KD Abdul Rahman KD Abdul Razak