Saturday, 08 December 2012 16:28
a
SIGMA 10514 PKR Frigate - Indonesia Navy (TNI AL)
Damen Schelde Naval Shipbuilding - PT PAL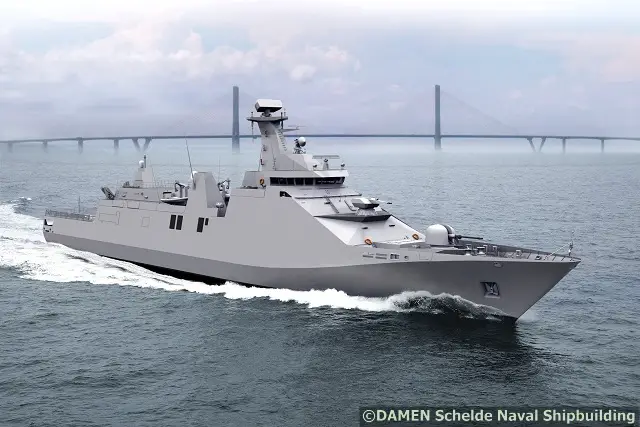 The Ministry of Defence of Indonesia and Dutch Shipyard Damen Schelde Naval Shipbuilding signed ni June 2012 a contract for the engineering, build and delivery of a SIGMA 10514 Guided Missile Frigate, PKR (Perusak Kawal Rudal). The PKR will be built for the Indonesian Navy, TNI AL, and is to be delivered in 2016.

The acquisition of this ship is part of the further modernization and expansion of the Indonesian Navy, TNI-AL. The main missions and tasks of the SIGMA PKR 10514 will be in the domains of naval warfare as well as Maritime Security missions and tasks. Also, the ship may be used for humanitarian support tasks.

The ship will be built according to the successful SIGMA modular building strategy, as a sequel to the earlier built four SIGMA Corvettes for TNI AL. This means that modules of the frigate will be built in Europe as well as locally at PT PAL in Surabaya Indonesia. The assembly and trials of SIGMA PKR 10514 will take place in and from Surabaya, Indonesia.
Variants
-
SIGMA__9113
: SIGMA class Corvette displacing 1,700 tonnes for 90 meters in length. Four vessels in use with the Indonesian Navy (TNI-AL).
-
SIGMA__9813
: SIGMA class Frigate displacing 1,950 tonnes for 98 meters in length. Two vessels in use with the Royal Morrocan Navy.
-
SIGMA 10513
: SIGMA class Frigate displacing 2,185 tonnes for 105 meters in length. One vessel in use with the Royal Morrocan Navy.
Technical Data
Back to top
Design
Construction: Modular
Hull material: Steel grade A / AH36
Standards: Naval / Commercial, naval intact / damaged stability, noise reduced, moderate shock
Missions
» Patrol in the EEZ
» Deterrence
» Search and Rescue
» ASW, AAW, ASUW, EW

Weapons
Guns:
» 1x Oto Melara 76/62 Compact 76mm Main Gun
» 1x Rheinmetall Millenium 35mm CIWS
Missiles:
» 8x MBDA MM40 Blk III antiship missiles
» 12x MBDA MICA VL surface to air missiles (in VLS)
Torpedoes:
» 2x Triple torpedo launchers
Deck Equipment
» Helicopter deck: max. 10 tons helicopter, with lashing points
» Heli operations: day/night with refuelling system
» Helicopter hangar
» RAS on helicopter deck PS&SB, astern fuelling
» Boats: 2 x RHIB
Sensors, Electronics, Decoys
Thales Smart-S Mk2
3D-Surveillance & target indication radar & IFF
Radar / electro optical fire control
Hull Mounted Sonar
Thales TACTICOS Combat management system
ESM & ECM
Integrated internal & external communication system
Integrated bridge console
2 x Navigation radar
ECDIS
GMDSS-A3
Reference gyro
2 x Decoys / chaff launchers
Engines/Propulsion/Power
Propulsion type: CODOE
Diesel engines: 2 x 10000 kW MCR Propulsion type
Electric motors: 2 x 1300 kW
Gearbox: 2 x double input input/single output
Propellers: 2 x CPP diameter 3.55 m
Specifications
Back to top
Type

Multi Mission Patrol Frigate

Crew

Fully air-conditioned accommodation for 120 persons

Operators

Indonesian navy

Performance

Speeds: max 28 kts
Range: 5000 nm @ 14 kts
Endurance: 20 days at sea

Designer / Builder

Damen Schelde Naval Shipbuilding / PT Pal

Displacement

2,365 tonnes

Propulsion

CODOE

Dimensions

Length: 105.11 m
Beam: 14.02 m
Maximum Draft: 3.7 m
Back to top
All pictures, images © DAMEN Schelde Naval Shipbuilding unless stated otherwise
------------------------- FLASH NEWS -------------------------
The French Navy has released a video showing the first launch of an MdCN Naval Cruise Missile from a FREMM Frigate.