Saturday, 09 February 2013 21:23
a
FALAJ 2 class Stealth Patrol Vessel - UAE Navy
P251 Ghantoot, P252 Salahah - Fincantieri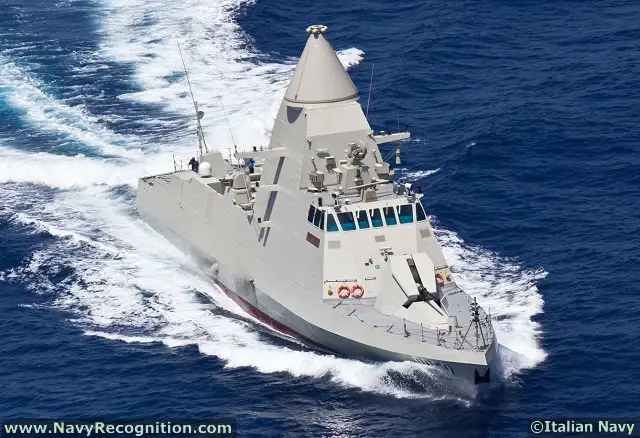 Designed and built by Italian shipyard Fincantieri, the Ghantoot and Salahah Stealth Patrol Vessels were ordered by the United Arab Emirates in 2010 as part of the "Falaj 2" program. The Falaj 2 class inshore patrol vessels feature advanced stealth characteristics to reduce their detectability.

Their main feature is their special stealth design making them difficult to detect by radar. Other features of these ships include their high level of flexibility in being able to carry out different types of mission in national and international waters (from patrol and surveillance, to defence from air and surface threats and attacks against land and sea targets), as well as their high standards of accommodation and safety.

The contract provides the UAE Navy with an option for another two sister ships, as well as technology transfer to local shipyard Etihad Shipbuilding for possible construction of the sister vessels.
Shiplist
| | | | |
| --- | --- | --- | --- |
| Name | Hull Number | Launched | Commissioned |
| Ghantoot | P251 | 01/2012 | - |
| Salahah | P252 | 06/2012 | - |
Variants
- None


Technical Data
Back to top
Missions
Highly flexible and versatile, the vessels are suited to conduct a range of missions – from patrol and surveillance operations to self-defence in case of threats from the air or surface and attack against both targets at sea and on land – in national and international scenarios, while affording high standards of accommodation and safety.
Deck Equipment
» 1x RHIB
» 2x Inflatable liferaft in hard-shelled canister
Weapons
Guns:
» 1x Oto Melara 76/62 mm Super Rapid (Stealth Version) main gun
» 2x Oto Melara Hitrole-G 12.7mm remote controlled naval turret
Missiles:
» 4x MBDA MM40 Blk III Exocet Anti-ship missiles (2 launchers with 2 missiles each)
» 6x MBDA VL Mica Surface to air missiles (2x3 VLS cells at the stern)
Sensors, Electronics, Decoys
Combat Management and Information Systems:
SELEX Sistemi Integrati Athena (IPN-S System) Combat Management System
Optronics:
1x SELEX Sistemi Integrati NA-30S radar and optronic Fire Control System
Radars and ESM:
1x SELEX Sistemi Integrati 3D multifunction C-Band radar
1x SELEX Sistemi Integrati SIR-M IFF Interrogator
1x Elettronica SEAL-L ESM / ELINT system
1x Navigation system (with LPI NAV-R)
Decoys/Counter measures/Jammers:
2x Rheinmetall MASS decoy launchers
Communications:
Link 11, 16
Data Distribution Unit
External Communication System
GMDSS system
Engines/Propulsion/Power
2x MTU 16V 4000 M90 diesel engines
4x MTU S60 diesel generators
2x Propeller Shafts
Specifications
Back to top
Type

Stealth Inshore Patrol Vessel

Crew

28

Operators

UAE Navy

Performance

Speeds: 20+ kts (max)
Range: 1,500+ nm @ 14 kts
Endurance: n/a days at sea

Designer / Builder

Fincantieri

Displacement

550 tons (full load)

Aviation

none

Dimensions

Length: 55.70 m
Beam: 8.80 m
Maximum Draft: 5.50 m

Back to top
------------------------- FLASH NEWS -------------------------
The French Navy has released a video showing the first launch of an MdCN Naval Cruise Missile from a FREMM Frigate.