a
Naval Industry News - USA
San Antonio class Landing Platform Dock USS Anchorage (LPD 23) Completes Final Contract Trials
USS Anchorage (LPD 23) successfully completed final contract trials and returned to San Diego July 18. Final contract trials serve as the final review of a newly constructed ship, with the ship's crew operating the vessel while still under warranty from the shipbuilder. The trial, run by the Navy's Board of Inspection and Survey (INSURV), is part of a series of post-delivery test and trials during which the ship and its major systems are exercised, tested and corrected as required.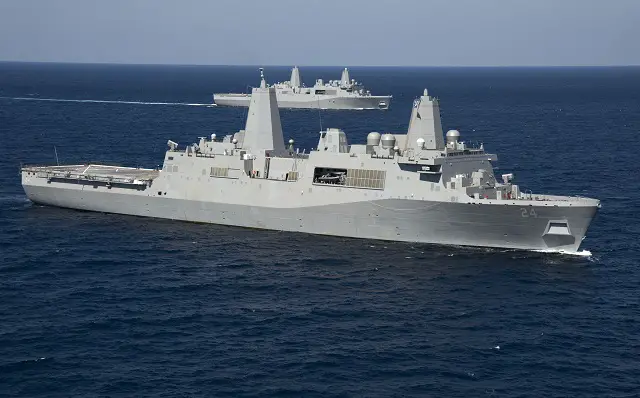 The amphibious transport dock USS Arlington (LPD 24), foreground, steams in formation with USS Anchorage (LPD 23), background.
(Picture: Huntington Ingalls Industries)
"This is a major accomplishment for the crew of Anchorage as post-delivery test and trials are completed in preparation for joining the fleet," said Capt. Darren Plath, LPD 17 program manager within the Navy's Program Executive Office (PEO), Ships. "USS Anchorage and her crew proved to be a capable fleet asset."
The trial began with dockside, pre-underway checks and continued, while underway, to evaluate the material condition and performance of the ship's major systems. During these trials, the ship's crew successfully demonstrated a variety of systems including main propulsion, engineering and ship control systems, combat systems, damage control, food service and crew support. Among the highlights of the trial, Anchorage successfully completed a full power run, self-defense detect-to-engage exercises, rapid ballasting and deballasting, steering and anchor handling demonstrations.
This final contract trial completes the rigorous rounds of testing the ship has undergone to demonstrate its operational capability. Earlier this year, LPD 23 conducted at-sea tests of the ship's weapons systems, resulting in a successful completion of Combat Systems Ship Qualifications. Engine assessments, well deck and underway replenishment qualifications, and aviation certification were also completed. These trials confirmed the continuing improved class trend in system reliability and quality assurance programs. Anchorage now continues further test and maintenance as part of post-shakedown availability.
Anchorage is the seventh amphibious transport dock ship in the San Antonio class and the second ship to be named for Alaska's largest city.

The eighth ship of the class, USS Arlington (LPD 24), delivered to the Navy Dec. 7, 2012. LPD 25- 27 are under construction at Huntington Ingalls Industries. The ships will continue to support a landing force of 800 marines, a flight deck that accommodates MV-22 Osprey tilt-rotor aircraft, and a well deck that can launch two high-speed landing craft, air cushioned (LCAC) vehicles.

As one of the Defense Department's largest acquisition organizations, PEO Ships is responsible for executing the development and procurement of all destroyers, amphibious ships, special mission and support ships and special warfare craft. Delivering high-quality war fighting assets - while balancing affordability and capability - is key to supporting the Navy's Maritime Strategy.