a
World Navy Force News - Royal Navy
HMS Ambush, second and newest Astute-class submarine completes first dive
The Navy's second hunter-killer submarine in the Astute-class has completed her first dive. HMS Ambush completed the important milestone at Barrow-in-Furness in Cumbria ahead of sea trials early next year. More than 70 Ministry of Defence personnel, BAE Systems engineers and Navy staff were involved in the two-day maiden dive, which proved the boat's safety and stability in water.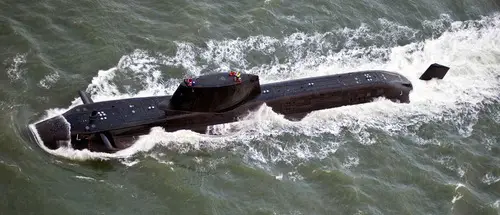 HMS Astute, first of Astute classs
(picture: Royal Navy)
Commander Peter Green, Commanding Officer of Ambush, said: "This is a major milestone for Ambush and shows she is firmly on track to exit Barrow early next year in order to commence her sea trials.

"Nuclear submarines are some of the most complex machines on earth and therefore to see everything come together in order to dive the boat for the first time is very satisfying. It has been a superb team effort."

The Astute-class are the largest, most advanced and most powerful attack submarines in the history of the Navy, boasting world-class design, weaponry and versatility.

They can travel over 500 miles in a day, allowing them to be deployed anywhere in the world within two weeks. They can fire Tomahawk missiles as well as carrying out intelligence-gathering missions.