a
Naval Forces News - UK
HMS Queen Elizabeth Aircraft Carrier Flight Deck Completed
The flight deck of the first of the Navy's new aircraft carriers is now finished, with the last 2 sections added to HMS Queen Elizabeth. The sponsons, each weighing just under 500 tonnes, roughly the same as a Sandown Class minehunter, have been carefully inched into place in Rosyth in Scotland.

The mighty Goliath crane lifted the sponsons – the sections protruding from the hull which give an aircraft carrier its unique shape – to join the remainder of the ship in her dry dock.

F-35 Fighter taking off
(Picture: Aircraft Carrier Alliance)
By the standards of the Queen Elizabeth, the segments are relatively small; the larger sections weighed in at more than 10,000 tonnes (heavier than a Type 45 destroyer).

Now physically complete the flight deck is the size of 60 tennis courts or just a bit smaller than 3 football pitches.

To accommodate the F-35 Lightning II jets, which will land and take off from the ship, a ski ramp will be installed next month – mirroring the feature which propelled the Harrier skywards on the Invincible Class of carriers.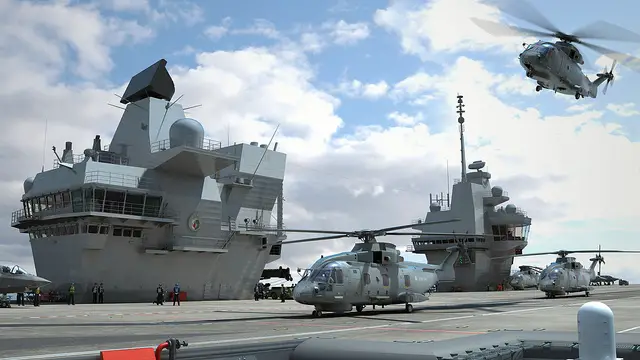 Artist impression of Merlin Helicopters onboard aircraft carrier HMS QUEEN ELIZABETH
(Picture: Aircraft Carrier Alliance)
The Queen Elizabeth Class project is probably at the peak of effort, with around 10,000 people involved in building the 2 leviathans, or providing equipment and systems to be installed on them.
While almost all the media attention is focused on the future flagship, there's also an all-out effort across the land to build her younger sister, the Prince of Wales, which is around 2 years behind Queen Elizabeth.
Sections of 3-quarters of the Prince of Wales's hull are under construction in Portsmouth, Govan, Merseyside and Tyneside.

The 65,000-tonne Queen Elizabeth Class aircraft carriers will be based in Portsmouth and will be the centrepiece of the UK's military capability.

HMS Queen Elizabeth is due to begin sea trials in 2017 and flight trials from her deck using Lightning II fast jets in 2018.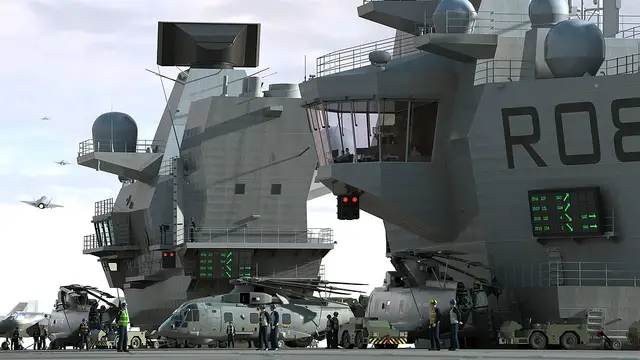 Artist impression of Merlin Helicopters onboard aircraft carrier HMS QUEEN ELIZABETH
(Picture: Aircraft Carrier Alliance)