a
Focus - Launch of the Vladivostok, Russian Navy first Mistral class LHD
DCNS launch Vladivostok, Russian Navy's first Mistral class LHD
Vladivostok, the first of two
BPC-type vessels
(LHD - Landing Helicopter Dock) on order from DCNS for the Russian Federation was floated out of its building dock at STX France's Saint-Nazaire shipyard on 15 October. The event was attended by senior officials representing the French and Russian navies and shipbuilding industries. The programme has proceeded as planned since the contract came into force in late 2011, with the vessels on schedule for delivery in late 2014 and late 2015 respectively.
Patrick Boissier, Chairman and CEO of the DCNS group, said: "This programme is a good example of cooperation between French and Russian contractors with the support of our respective ministries of defence. It is also a further demonstration of our ability to implement innovative contracting arrangements that meet the needs of international customers. This successful program underlines the quality of the partnership between DCNS and STX. The success of this program confirms DCNS's growth strategy, which is particularly based on developing our activities on international markets."

The construction of pre-outfitted hull blocks for BPC Vladivostok began on 1 February 2012. A year later, STX France began assembling the forward blocks in the main building dock at Saint-Nazaire while Russian shipbuilder OSK began assembling the aft blocks at its Saint Petersburg shipyard. The aft half was shipped from Saint Petersburg to Saint-Nazaire in late July then mated with the forward half in August. Validation testing began under the supervision of the programme prime contractor DCNS as soon as the forward and aft halves had been mated. Quay-side and at sea testing will continue until the ship is ready for delivery in late 2014.

The contract which started in late 2011 calls for the delivery to Russia of two Mistral/BPC-type vessels and associated services including initial logistics, training, and technology transfers. DCNS is acting as the shipbuilding prime contractor for the two-vessel programme. STX France is building the vessel platforms as a subcontractor to DCNS. OSK is contributing to the construction of both vessels as a subcontractor to STX.

The BPC LHD was co-developed by DCNS and STX France as an inherently multirole vessel that meets the needs of many naval forces around the world and is ideal for a wide range of civilian and military missions.

DCNS and STX France have supplied three BPC vessels to the French Ministry of Defence. BPC Mistral was delivered in 2006, BPC Tonnerre in 2007 and BPC Dixmude in 2009.

The second Mistral-class LHD for Russia, the
Sevastopol
, is due to be floated out in October 2014. The bow part of the vessel could be seen in the shipyard. According to the Russian Defense Ministry, both warships will be based in the Far East ports of Vladivostok and Petropavlovsk-Kamchatsky when they enter service.
According to Andrei Vernigora, director of the Russian defense ministry's procurement department, a decision to express an option to build a third and fourth Mistral for the Russian Navy will be taken based on the experience of testing the first one.

Mistral class LHD:
Designed by DCNS, Mistral BPC (Bâtiment de Projection et de Commandment) LHD is a multi-mission 21,500t amphibious assault, command and power projection ship. Mistral-class vessels are capable to accommodate and deploy 16 transport or attack helicopters, four landing crafts, up to 70 vehicles or 13 main battle tanks. They have accommodations for 450 to 700 troops. Each ship of the class is equipped with a 69-bed hospital.
Check out our technical datasheet to learn more about the Mistral class

Air wing:
The Russian Mistral air wings are expected to include eight Kamov Ka-52K Alligator attack helicopters and eight Ka-29 assault transport helicopters.

The Ka-52K is a navalised version of the ground-based Ka-52 Alligator combat helicopter operated by the Russian Air Force. It features foldable rotor and wings, new radar system and anti-ship missiles.
(Picture: Vitaly Kuzmin)

Models of the DCNS built LCMs for the Russian LHDs were shown during IMDS 2013
Landing crafts:
Ordered at the beginning of 2013, DCNS will also build in partnership with STX four LCMs (Landing Craft Material) for the Russian LHDs. They will be able to project troops, equipment and vehicles for beach landing operations. The four LCMs are currently being built by DCNS in partnership with STX and will be delivered in 2014 along with the Vladivostok.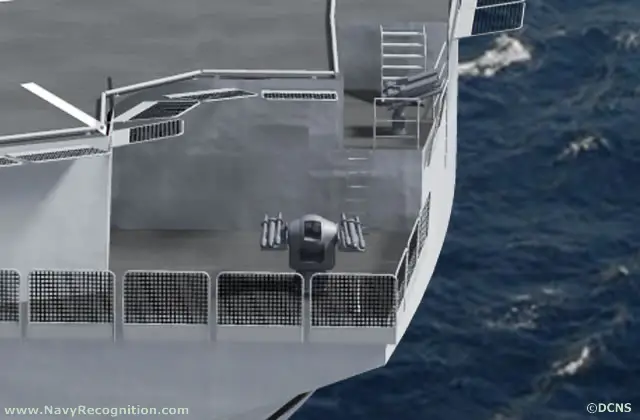 Gibka 3M-47 naval turret mount, air defense missile system
(Image renderring: DCNS)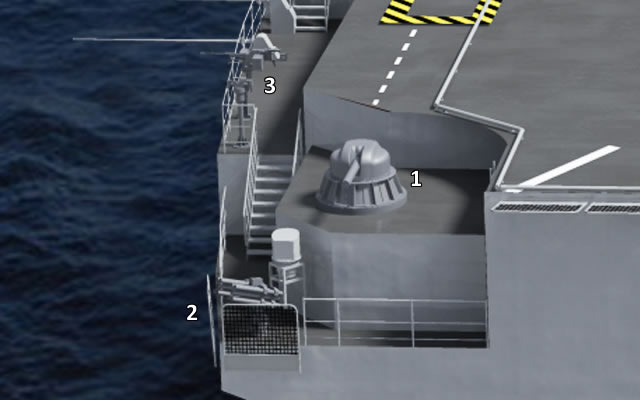 At the bow, starboard side of Vladivostok, the following weapon systems are expected to be fitted:
1- AK-630M CIWS
2- DP-65, 55 mm antisaboteur grenade launcher
3- 14,5mm KPVT heavy machine gun on an MTPU mount
(Image renderring: DCNS)
Weapons:
Vladivostok
type Mistrals are set to receive a fully Russian weapons fit at the Severnaya Verf shipyard in St. Petersburg before being handed over to Russia's Pacific Fleet.
Self protection against air threats will be fulfilled by two
Gibka 3M-47 air defense missile system
: One located the bow, port side and another system located at the stern, starboard side. The information was confirmed in July by Almaz Antey represenatives that we interviewed during IMDS 2013.
Link to the interview.
Two
AK-630M CIWS
are set to be fitted (bow, starboard side and stern, port side) for close range protection against air and surface threats.
Some 14,5mm heavy machine guns are planned to be installed on
Vladivostok
for protection against close range asymmetrical threats.
Four
DP-65 antisaboteur grenade launchers
will be fitted on each side of the vessels. It is designed for protection of ships against attacks of underwater combat swimmers at external roadstead open anchor stops and bases. The system ensures single-shot and salvo fire with rocket grenades RG-55M and RGS-55.
Specific Russian Modifications:
Other notable differences compared to French Navy Mistral class LHDs include an increased hangar height to accomodate the Kamov helicopters, modified bridge structure, reinforced hull to operate in Arctic zones, specific warming devices on deck, a door that completly closes the well-deck (on French Mistrals, the well-deck door doesn't reach the top of the well-deck, leaving an opening) and several russian specific systems.