a
Naval Industry News - Russia, India
Handover of aircraft carrier INS Vikramaditya to take place on November 16
On November 16, 2013, the formal handover ceremony and transfer of the Project 11430 aircraft carrier Vikramaditya (INS Vikramaditya) to the Indian Navy will be held at the Sevmash shipyard in Severodvinsk. Vikramaditya, a retrofitted Russian Project 11434 heavy aircraft-carrying cruiser Admiral Gorshkov, will be the flagship of India's Navy. The official Indian delegation is headed by the country's Defense Minister Arackaparambil Kurian Antony.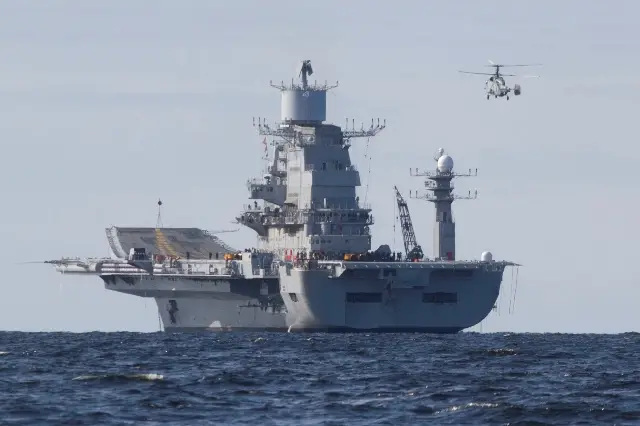 INS Vikramaditya, ex-Admiral Gorshkov, during the current sea trials
Picutre: Sevmash

During the formal ceremony the Russian and Indian sides will sign the certificate of delivery-acceptance transferring the aircraft carrier to the Indian crew and the Indian Navy's flag will be hoisted on board the ship. The certificate of delivery-acceptance will be signed by aircraft carrier commander Commodore Suraj Berry on behalf of the Indian side and by Deputy General Director of Rosoboronexport (part of Rostec State Corporation) Igor Sevastyanov on behalf of the Russian side.

Commissioning of INS Vikramaditya by the Indian Navy will be an important stage in the development of modern Indian Navy: after a large-scale retrofit at Sevmash the aircraft carrier has received a modern flight deck and a ski jump for take-off of MiG-29K fighters, navigation and radar systems, communications and air control systems, as well as other specialized equipment and units.

The INS Vikramaditya will leave the Russian territorial waters in late November 2013. The ship will carry out a long passage and will arrive in India in late January - early February 2014.