a
Naval Forces News - Iran
Iranian Navy reactivates Lavan helicopter carrier (LST) following overhaul
Iran Navy commanders said the overhaul of Lavan chopper carrier, including renovation and operationalizing its hydraulic systems which needs a very complicated technical procedure, has taken 33 months. Meantime, the SH3D combat helicopter also came back into operation for the Navy after nearly 20 months of overhaul repairs and seven months of tests.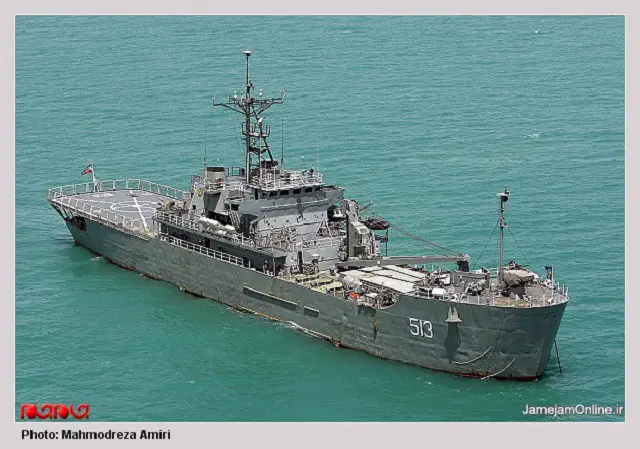 The newly-overhauled warship, Lavan, which has been equipped with advanced weapons and radar systems, and the newly-overhauled SH3D combat helicopter came back into operation in a ceremony attended by senior Iranian commanders on Saturday.

Lieutenant Commander of the Iranian Army Brigadier General Abdul-Rahim Mousavi and Iranian Navy Commander Rear Admiral Habibollah Sayyari were present in the ceremony.

Lavan warship is capable of carrying RH and SH helicopters as well as armored personnel carriers.

In recent years, Iran has made great achievements in its defense sector and attained self-sufficiency in producing essential military equipment and systems.

In September, Sayyari had announced in September that the country's Navy has equipped its newly-overhauled warship, Lavan, with advanced weapons and radar systems to improve its performance and fire power.

"Some repairs and changes have been made to the body as well as the sailing, sonar and radar systems, weapons and information-gathering sensors of the warship," he told reporters on the sidelines of a forum in the Northern city of Noshahr at the time.

From Fars News.

Note: Designated "Helicopter Carrier" by Iran, the Lavan is actually a Hengam-class tank landing ship (LST). Built by British shipbuilder Yarrow & Co. four LST of the Hengam class were delivered in the mid-seventies and mid-eighties. The class has a flight deck for one Sea King–sized helicopter aft. cargo capacity of 600 tons, and can carry 12 T-55 MBT.