a
Naval Defense News - USA
Lockheed Martin LRASM Anti-Ship Missile Scores Second Successful Flight Test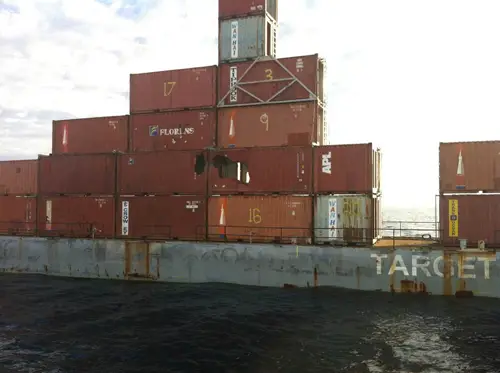 Picture: DARPA
An unmanned target ship demonstrates the effects of the second successful flight test of a Long Range Anti-Ship Missile (LRASM) prototype, conducted November 12 off the coast of Southern California. The test reinforced the results of LRASM's first successful free-flight transition test (FFTT) on August 27, which verified the prototype's flight characteristics and assessed subsystem and sensor performance. Both tests achieved all of their objectives after the prototypes used their respective onboard sensors to detect, engage and hit the moving 260-foot target ships with inert warheads.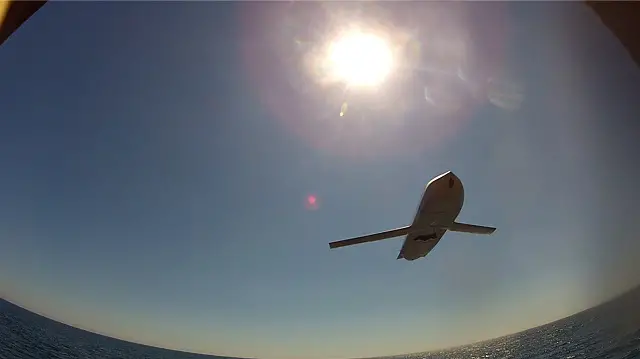 LRASM in sea skimming terminal flight
picture: Lockheed Martin
The tactically-representative LRASM is built on the same award-winning production line in Pike County, Ala., as JASSM-ER, demonstrating manufacturing and technology readiness levels sufficient to enter the engineering, manufacturing and development phase to satisfy an urgent operational need.
After a competition in 2009, Lockheed Martin's LRASM was selected to demonstrate air- and surface-launched capability to defeat emerging sea-based threats at significant standoff ranges.
Armed with a proven 1,000-pound penetrator and blast-fragmentation warhead, LRASM employs a multi-mode sensor, weapon data link and an enhanced digital anti-jam global positioning system to detect and destroy specific targets within a group of ships.
Link to our recent video interview on LRASM