a
Naval Forces News - USA
USS Theodore Roosevelt Launched E-2D Advanced Hawkeyes for the First Time
The aircraft carrier USS Theodore Roosevelt (CVN 71) launched and recovered E-2D Hawkeyes, from the Tiger Tails of Carrier Airborne Early Warning Squadron (VAW) 125, for the first time, Dec. 3.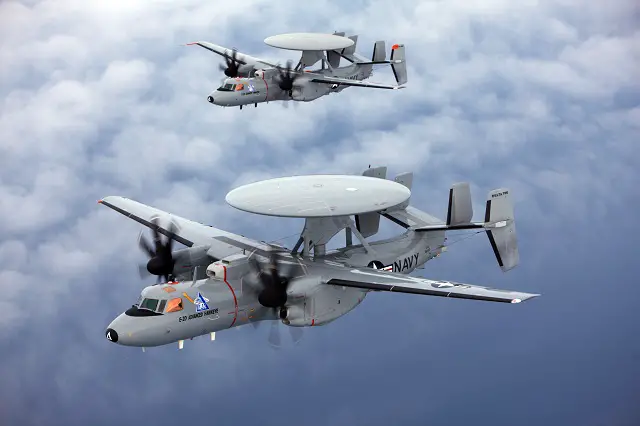 Since the first E-2D Advanced Hawkeye took to the skies over St. Augustine, Fla., for the first time in August 2007, Northrop Grumman has delivered 10 new production E-2Ds to the U.S. Navy, on cost and on schedule. An additional 10 aircraft are in various stages of manufacturing and predelivery flight testing at the company's St. Augustine Aircraft Integration Center. Initial operational capability with the Navy remains on track for 2015.
Picture: US Navy
With notable improvements and new features, the E-2D is a major advancement from the E-2C Hawkeye.
"The E-2D brings a significant number of improvements to the older E-2C," said Cmdr. Paul Lanzilotta, commanding officer of VAW-125. "The biggest thing is the sensor and radar systems. They are much more advanced in the E-2D. The E-2D is capable of seeing much farther and it is far more capable of detecting targets on the surface and in the air. This helps ensure the carrier strike group is adequately defended, even hundreds of miles away. We can see it all."
Other improvements include a fully integrated-all-glass-tactical cockpit, advanced identification friend-or-foe system, a new radar with both mechanical and electronic scanning capabilities, electronic support measures enhancements, new mission computers and tactical workstations.
"Along with the many technological advances, the E-2D is also a much smoother flying aircraft now," said Lanzilotta. "These aircraft are brand new. They still have that have that 'new car smell'."
After hundreds of practice landings on shore, the launch and recovery of the E-2D onboard Theodore Roosevelt begins VAW-125's final transition process from the E-2C to the E-2D.

By Mass Communication Specialist 2nd Class Katie Lash, USS Theodore Roosevelt Public Affairs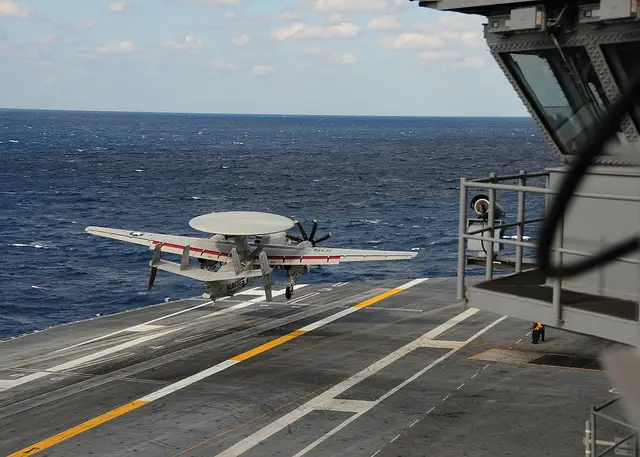 USS THEODORE ROOSEVELT, at sea (Dec. 3, 2013) - An E-2D Hawkeye, assigned to the Tiger Tails of Carrier Airborne Early Warning Squadron (VAW) 125, performs a touch-and-go on the flight deck of the aircraft carrier USS Theodore Roosevelt (CVN 71). This is the first time that the improved Hawkeye, which includes various advanced capabilities to gather information and better protect Carrier Strike Group 12, has been launched and recovered onboard USS Theodore Roosevelt. (U.S Navy photo by Mass Communication Specialist Seaman Kris R. Lindstrom/Released)