a
Naval Technology - ESSM and APAR radar
Video: Thales Active Phased Array Radar excels in ESSM firings from new Danish Frigate
The trial, executed on 21 November 2013, consisted of four Evolved Sea Sparrow Missiles (ESSM) being directed by APAR to four targets. The trial was successful: all launched missiles performed a successful intercept. In the first part of the trial, a Banshee drone was eliminated by a missile launched by the new Royal Danish Navy Frigate HDMS Peter Willemoes (Iver Huitfeldt-class).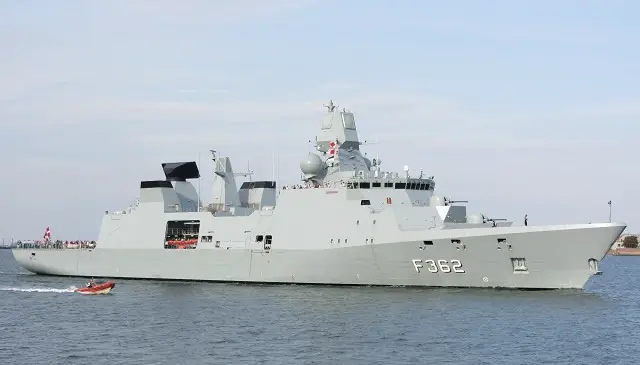 The new Royal Danish Navy Frigate HDMS Peter Willemoes (Iver Huitfeldt-class)
Picture: Berg2
With pinpoint accuracy APAR guided the missile to the target, resulting in a successful threat elimination. Subsequently, three Banshee drones were launched simultaneously, necessitating the launch and guidance of three missiles. Thanks to APAR's unique Interrupted Continuous Wave Illumination technology, enabling the simultaneous guidance of multiple missiles to various targets; this part of the trial was also successful.

The trials were performed at the Missile Test Range off the Scottish coast in the Atlantic Ocean. HDMS Peter Willemoes was escorted by HDMS Niels Juel.

Gerben Edelijn, Thales Nederland's CEO says: "This excellent result proves that Thales' APAR and the unique technology are the standard in missile guidance."

HDMS Peter Willemoes is one of the three Iver Huitfeldt class air defence frigates of the Royal Danish Navy. The other two ships are HDMS Iver Huitfeldt and HDMS Niels Juel. These ships share their Anti-Warfare suite with the Royal Netherlands Navy's De Zeven Provincien-class frigates and the German Navy's Sachsen-class frigates. The Thales sensors of this suite include the long range surveillance radar SMART-L and the multi-function radar APAR.