a
DEFEXPO 2014 Daily News - General Atomics EMALS
General Atomics showcased its Electromagnetic Aircraft Launch System at Defexpo 2014
At Defexpo, US Company General Atomics showcased its Electromagnetic Aircraft Launch System (EMALS). Navy Recognition learned that eventhough the technology would have to be cleared for export by the US congress, General Atomics is activelly seeking to export the system to potential customers such as India, Brazil and even France in the future.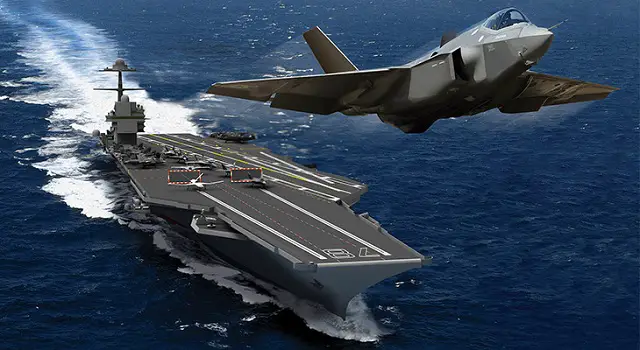 Electromagnetic Aircraft Launch System (EMALS) will first be fitted onboard the USS Gerald R. Ford
Picture: General Atomics
Electromagnetic Aircraft Launch System (EMALS) is a complete launch system designed to replace the existing steam catapult currently being used on aircraft carriers.
The USS Gerald R. Ford
, the first ship of the CVN-21 Future Aircraft Carrier Class, will use electromagnetic launch systems.
EMALS provides:
Reduced Manning Workload
Reduced Thermal Signature
Increased Launch Availability
Reduced Topside Weight
Reduced Installed Volume
Launch capability for unmanned aerial vehicles
DCNS Evolved Aircraft Carrier (DEAC) model at DEFEXPO 2014
Picture: Navyrecognition
Potential Markets

During Defexpo 2014, a General Atomics representative explained to Navy Recognition that EMALS would have been fitted on the Royal Navy's Queen Elizabeth-class aircraft carrier, should UK have retained the CATOBAR (catapult) configuration.

The representative explained to us that export markets for EMALS consisted in current and future CATOBAR aircraft carrier users including Brazil, India (the reason for the company's presence at Defexpo) and potentially France in the future. We also learned that General Atomics and DCNS representatives met during Defexpo to discuss possibilities of fitting EMALS onboard DCNS future aircraft carrier designs. Finally, we were told that General Atomics would attend Euronaval 2014, the leading naval defense exhibition which will be held in October 2014 in Paris.