a
Naval Forces News - France
French Navy NH90 Caiman Helicopter test fires MU90 torpedo for the first time
On February 6 2014, the French Navy unit in charge of testing new airborne means (CEPA - 10S) conducted the first firing tests of MU90 torpedo training rounds. The first firing took place while stationary and the second torpedo launch took place while the NH90 was in motion.

French Navy NH90 Caiman launching a MU90 torpedo for the first time
Picture: French Navy/Robert Dal Soglio

This marked the beginning of the technical-operational testing which goal is to validate the compliance of the system and its support and clarify the concept of use of the weapon.

In adition, CEPA - 10S is currently experimenting the sonobuoy system to strengthen French Navy's Caiman operational capabilities in anti-submarine warfare by the end of the year.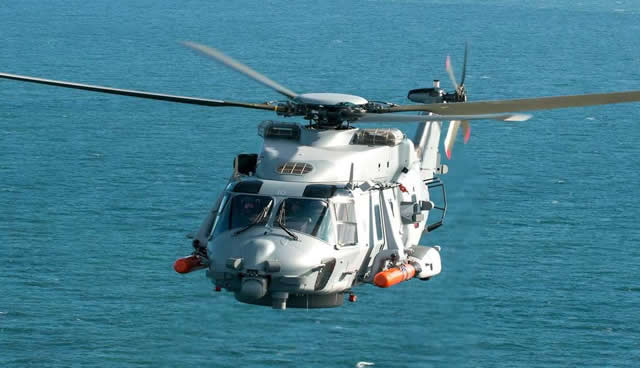 The NH90 may deploy two MU90 Torpedoes
Picture: French Navy/Robert Dal Soglio

The French Navy has 27 NH90 NFH on order.

The NH90 NFH boasts a state-of-the-art weapons system that combines – as part of a high-performance platform – a package of ultra-modern electronic, acoustic and optronic sensors as well as weapons loads adapted to anti-ship and anti-submarine missions. The helicopter also performs SAR, amphibious, maritime surveillance and anti-piracy missions.