a
Naval Defense Industry News - Netherlands, Vietnam
Design of future Damen SIGMA 9814 Corvettes for Vietnamese Navy revealed
During Vietship 2014 Nava Exhibition in Vietnam, Dutch shipyard Damen unveiled for the first time the design of the Sigma 9814 Corvette ordered by Vietnam. It was announced in October 2011 that Damen shipyard in Vlissingen, Netherlands will build four Sigma corvettes for the Vietnamese Navy. The first two ships will be built in Vlissingen (Netherlands), and the last two (options) will be built in Vietnam, under Dutch supervision.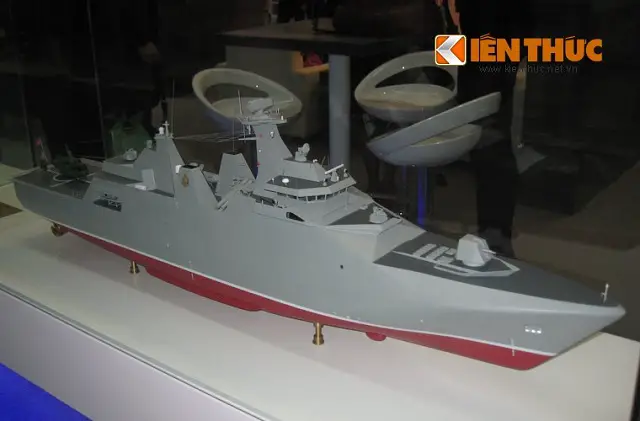 The new Sigma 9814, future corvette design of the Vietnamese Navy
Picture source:
Quôc Phòng Viêt Nam
Based on previously published information and from what can be seen on the model shown at Vietship 2014 the new SIGMA 9814 class will be fitted with:
8x MBDA Exocet MM40 Block 3
12x MBDA MICA VL surface-to-air missiles (in VLS)
1x Oto Melara 76mm main gun
2x Oto Melara MARLIN-WS 30mm gun mounts
The corvette will acomodate one anti-submarine helicopters Ka-28. The corvettes are set to receive the latest generation of electronics and sensors from Thales including TACTICOS combat management system,
SMART-S Mk 2 radar
and STING EO Mk 2 electro-optical fire control system.
Design wise, the new Sigma 9814 differs quite a lot combared to existing Sigma designs (
9813
,
10513
or
10514
) especially around the bridge area. Likewise, the bow appears to be more angled to possibly provide more stealth.