a
Naval Industry News - Italy
Italian Navy Receives its Third FREMM Frigate "Carlo Margottini"
Today, two months after the final acceptance of the FoC ASW Virginio Fasan, the Italian Navy has enlarged the existing fleet with the third FREMM Frigate, Carlo MARGOTTINI. The ceremony was held at the Fincantieri shipyard in Muggiano, La Spezia (Italy). The FREMM Margottini is in Anti Submarine Warfare configuration as well as Fasan.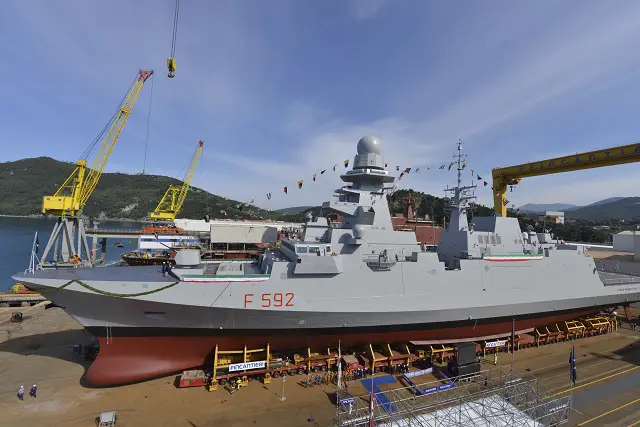 Italian Navy's third FREMM Frigate "Carlo Margottini"
Picture: Fincantieri
The delivery of three ships fully operational in nine months is the result of the synergy among OCCAR, Italian Navy and national Industries.

The whole Programme for Italy includes the production of up to 10 ships, 8 already funded. The Programme is in line with the contractual schedule. The next mission, on the 29th of March, is the launch of the CARABINIERE, the third frigate in ASW version.

Fincantieri CEO, Giuseppe Bono stated: "Today ceremony confirms/seals a praiseworthy corporate and system performance. Thanks to the close synergy with the OCCAR Programme Division and the Italian Navy, we deliver the third fully operative unit built in nine months, which allows the Italian Fremm programme to meet the strict deadlines and Navy requirements.

Italian FREMM are intended to operate at National level and at integrated cooperation within international missions, contributing to European, NATO and United Nations operations.

Main Characteristics:
- Length, overall: 144 m
- Displacement (around): 6,700 t
- Crew + extra Personnel: 145+55
- Propulsion: CODLAG
- Speed: > 27 kts

OCCAR (Organisation for Joint Armament Cooperation) is the contracting Authority for the FREMM Programme, Orizzonte Sistemi Navali (51% Fincantieri, 49% Selex ES) is the Prime Contractor for Italy.