a
Naval Forces News - Australia
Canberra, Royal Australian Navy new Landing Helicopter Dock starts sea trials
NUSHIP Canberra, the first of two Landing Helicopter Dock ships being built for the Australian Defence Force, sailed yesterday for the first time under her own propulsion as part of the sea trials and testing program. Canberra departed the BAE Systems dockyard at Williamstown where the ship will undergo a series of tests to prove systems and equipment prior to being handed over to Navy.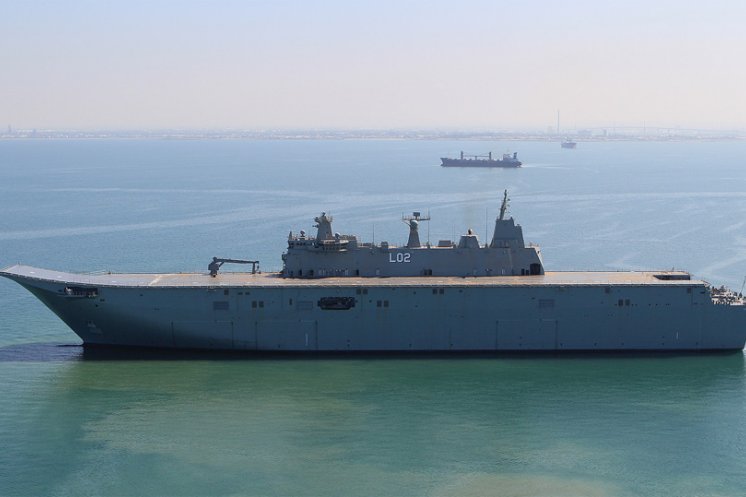 NUSHIP Canberra sails from Williamstown to commence her first set of sea trials.
Picture: LSIS Helen Frank / Royal Australian Navy
LHD Project Manager, Captain Craig Bourke, said the trials will test a variety of systems in different conditions.
"The trials will be conducted in various locations so systems and equipment can be tested at different depths and different speeds for example," Captain Bourke said.
"How the ship handles and moves in different conditions, how long it takes to stop the ship at different speeds, and how much fuel the ship uses at different speeds and configurations are all examples of trials that will be undertaken during this period.
"The very basic system operations will also be tested – like testing the ship's alarm system for example," he said.

Along with Project staff from BAE Systems and Defence Materiel Organisation, a significant number of Canberra's ship's company also sailed in Canberra for sea trials.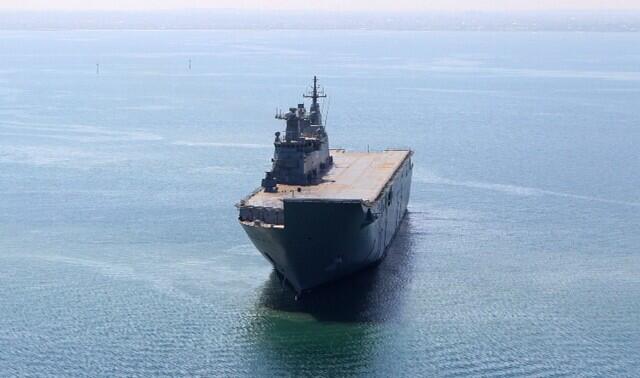 NUSHIP CANBERRA in Port Phillip Bay on her initial sea trials.
Picture: Royal Australian Navy
Commanding Officer of NUSHIP Canberra, Captain Jonathan Sadleir AM, said it was an important familiarisation opportunity for the ship's company.
"Some of our technical personnel are involved in assisting with observing the trials. This provides an excellent opportunity for our people to build on their training so far and further familiarise themselves with the systems and equipment onboard, so they are ready to take responsibility for those systems when the ship is handed over to Navy," Captain Sadleir said.
"To have the opportunity to see the ship operate at sea ahead of taking responsibility for her is a valuable learning experience.
"We also have some of our chefs embarked, preparing the meals for everyone onboard during the sea trials program – again a great way to get to know their brand new working environment," he said.
Yesterday marked the start of the first 'at sea' trial which will see the ship operate within Port Phillip Bay and in various areas off the Victorian and New South Wales Coast including near Eden and in Jervis Bay. The first sea trial will culminate after approximately 12 days with the ship entering Sydney Harbour for the first time.
The ship is scheduled to enter the dry dock at Fleet Base East, where the size and scale of the LHD platform will be readily apparent. Canberra is scheduled to receive a hull clean in the dock before proceeding to sea and returning to Williamstown to commence the final phase of sea trials involving communications and combat systems.