a
Naval Forces News - Israel
Israeli Navy Special Forces intercept Iranian cargo ship carrying rockets for Gaza
The Israeli Navy Special Forces unit Shayetet 13 intercepted an attempt to smuggle an Iranian shipment of advanced weaponry intended for terrorist organizations operating in the Gaza Strip. The operation took place in the early hours of Wednesday morning.
Israeli Navy footage of the Interception by Shayetet 13 special forces
The operation was made possible due to the combination of in-depth intelligence and enhanced operational capabilities. This shipment was meant to reach the hands of terrorist organizations in Gaza that are waging an ongoing armed conflict against Israel. These terrorist organizations systematically use such weaponry against the Israeli civilian population.

Last night, following extensive preparations, and on the government's authorization, the IDF Chief of the General Staff, Lieutenant General Benjamin (Benny) Gantz, ordered the Israel Navy to intercept the KLOS-C, upon which the illicit arms were concealed in between commercial cargo.

IDF special naval forces boarded the vessel, in accordance with international law, and carried out a preliminary inspection of the cargo.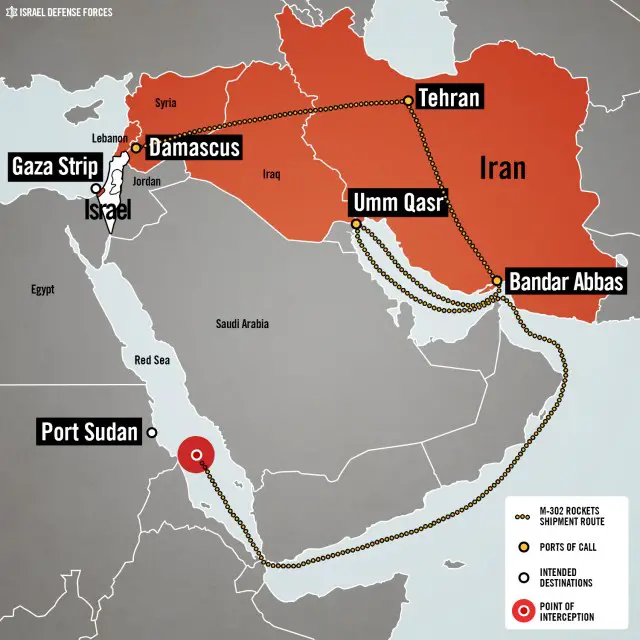 The course of the Iranian weapons shipment
They discovered numerous advanced weapons during the inspection, including M-302 surface-to-surface missiles, which are capable of reaching any point in Israel, including major population centers Tel Aviv and Jerusalem. If Palestinian terrorist organizations had gotten their hands on these weapons, they would have been able to use them to threaten millions of Israeli civilians.

The Navy is currently sailing together with the cargo ship back to Israeli shores.

"The IDF will continue to operate against the Iranian attempts to arm regional terrorist organizations, who intend to continuously ignite our borders," said IDF Spokesman, Lt. Col. Peter Lerner. "We will continue to employ all the necessary means in order to prevent the armament of terrorist organizations and will combat the Iranian smuggling attempts that threaten the security and sovereignty of the State of Israel."