a
Naval Forces News - Russia, Ukraine
Russian navy sank its decommissioned cruiser Ochakov to trap Ukrainian fleet
The Russian navy sank its decommissioned cruiser Ochakov at the mouth of Donuzlav lake on the Black Sea, trapping Ukrainian naval vessels there, Ukraine's Defense Ministry said in a statement on its website.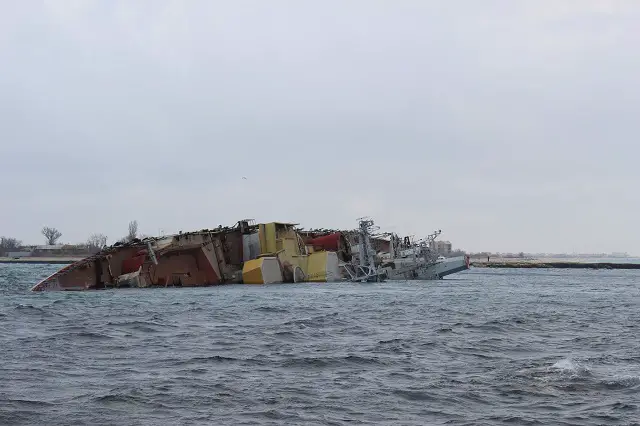 Ochakov is a Kara class Cruiser built in the early 1970s.
It entered service in 1975 and was decommissioned in 2008.
Official statement from Ministry of Defence of Ukraine:

Ukraine's ships blocked by sunk Russian ship

This fact is proved by the Ukrainian military of the South Naval Base who were observing the operation.Thursday, March 6. CRIMEA — The Russian Navy Ochakov Kara-class cruiser was sunk this night to blockade the Ukrainian Navy ships deployed in Novoozerne.

The RF ships blocking the Ukrainian ships in Donuszlav lake left the zone at 23.30 p.m. (March 5).

Then, the Russian military towed and put in the navigating channel their ship Ochakov. They filled her with water. Then, there was some explosion. The depth in this area is 9-11 m, it is possible now to observe the upper part of the ship. Therefore, the ships cannot leave the Donuzlav lake. It is needed a lot of time and costs to refloat this ship.