a
Sea-Air-Space 2014 Show Daily News - BAE Systems
BAE Systems to Highlight Affordable, Innovative Solutions at Sea-Air-Space Exposition
BAE Systems will feature a range of affordable, innovative solutions at the Navy League's annual Sea-Air-SpaceExposition, April 7-9, at the Gaylord National Resort and Convention Center inNational Harbor, Maryland.

During the exposition, BAE Systems will host a media briefing on SIBA™, an information sharing tool designed to help the U.S. Navy and other defense and intelligence customers control access to sensitive documents and records. The briefing will be held at the BAE Systems booth (#2137) on Monday, April 7, at 10:00 a.m. Additionally, the Navy will host a media briefing on the Electromagnetic Railgun Innovative Naval Prototype, which BAE Systems is helping to develop. The briefing will be held at the Naval Sea Systems Command booth (#2323) on Monday, April 7, at 2:00 p.m.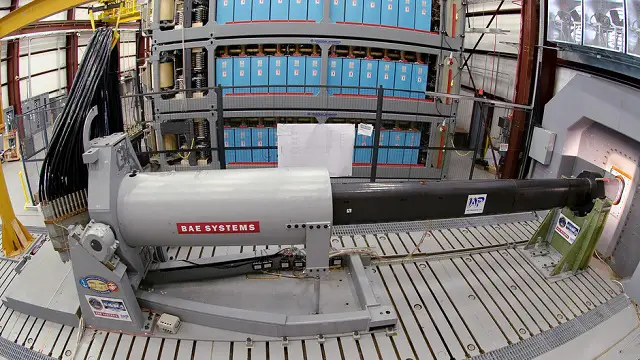 Electromagnetic Railgun
Picture: BAE Systems
Precision Munitions and Advanced Weapons Systems
BAE Systemsdevelops innovative weapon systems technology and platform advancements to meet challenging mission requirements for U.S. and allied security needs. Products highlighted during the exposition will include the Advanced Precision Kill Weapon System (APKWS™) technology, Multi-Service Standard Guided Projectile (MS-SGP), Long Range Land Attack Projectile (LRLAP), Electromagnetic Railgun,AN/SQQ-32(V)4 mine hunting sonar system, Archerfish mine neutralization system, Mk 38 Mod 2, and other naval gun systems.

Ship Repair and Modernization
BAE Systems supports the operational readiness of the Navy's fleet as a leading provider of non-nuclear ship repair, maintenance, and modernization services at the company's seven full-service shipyards across the country. Products and services to be highlighted during Sea-Air-SpaceincludeCruiserand Destroyer modernization programs, and dry dock services.

Geospatial Exploitation Products
BAE Systems' Geospatial Exploitation Products (GXP®) provide Navy and other customers with industry-leading geospatial-intelligence software for data management, image exploitation, geospatial production, and intelligence reporting.Featured at the exposition will be GXP WebView®, a new lightweight, universal Web-based electronic light table that allows users to find and exploit mission-critical geospatial data using only a Web browser.