a
Naval Forces News - USA, Japan
JMSDF and US Navy deployed AEGIS Destroyers to possibly intercept North Korean Missiles
Japan's defense minister has ordered the Japanese Armed Forces to shoot down any North Korean ballistic missiles that are tested in the coming weeks, Reuters reported on Saturday, April 5, 2014. Meanwhile U.S. Defense Secretary Chuck Hagel announced that the U.S. Navy will send two destroyers to counter possible threats.
PACIFIC OCEAN (Oct. 25, 2012) The guided-missile destroyer USS Fitzgerald (DDG 62) launches a Standard Missile-3 (SM-3) as apart of a joint ballistic missile defense exercise.
(U.S. Navy photo/Released)
According to the Reuters report, which cited an unidentified government source, Japanese Defense Minister Itsunori Onodera issued the order on Thursday, which directed the Japanese Maritime Self Defense Forces (JMSDF) to shoot down any missiles that North Korea launches between April 3 and April 25. An Aegis destroyer has been deployed to the Sea of Japan to carry out the order, the report said.

The Aegis Combat System is an integrated naval weapons system developed by the Missile and Surface Radar Division of RCA, and now produced by Lockheed Martin. It uses powerful computer and radar technology to track and guide weapons to destroy enemy targets.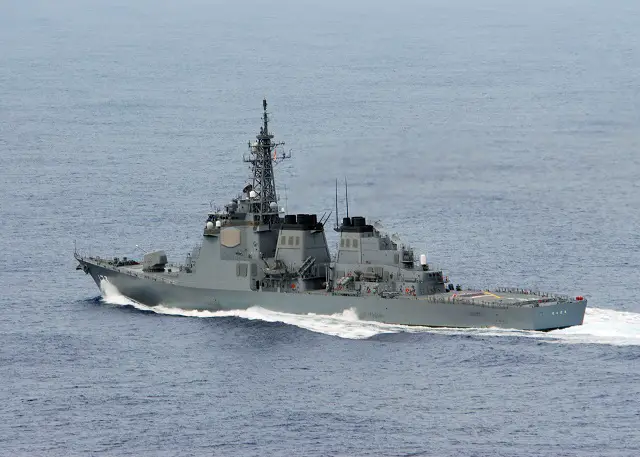 Japan Maritime Self-Defense Force JDS Kongo (DDG 173)
(Picture: US Navy)
Like the US Navy destroyers in the area, the Japanese Destoyers are fitted with the SM-3 missile made by Raytheon. The SM-3 is a defensive weapon designed to destroy short- to intermediate-range ballistic missiles. The SM-3 destroys incoming ballistic missile threats by colliding with them, a concept sometimes described as "hitting a bullet with a bullet." The impact is the equivalent of a 10-ton truck traveling at 600 mph.