a
World Navy Force News - Qatar
DIMDEX and RUSI Qatar partner for the Middle East Naval Commanders Conference
The third Doha International Maritime Defence Exhibition and Conference (DIMDEX 2012) has announced that theRoyal United Services Institute for Defence and Security Studies (RUSI Qatar) will co-organize the Middle East Naval Commanders Conference (MENC) taking place in Doha on March 27.

DIMDEX 2012 is the pre-eminent maritime defence event in the MENA region and will be staged in the new Qatar National Convention Centre from March 26 to 28. Held under the patronage of His Highness Sheikh Tamim Bin Hamad Al Thani, Heir Apparent and Deputy Commander-in-Chief of the Armed Forces, DIMDEX 2012 is hosted by the Qatar Armed Forces and the Qatari Emiri Naval Forces.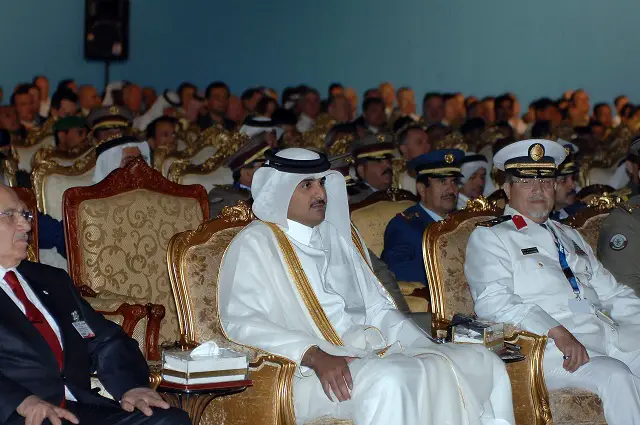 His Highness Sheikh Tamim Bin Hamad Al Thani, Heir Apparent and Deputy Commander-in-Chief of the Qatar Armed Forces
The MENC conference is a key component of DIMDEX 2012's three-day programme and brings senior naval commanders, policy-makers, government officials and analysts together in Doha to discuss key developments in the maritime field. Given the current geo-strategic importance of the MENA region in global defence and security issues, DIMDEX 2012 will be a landmark event in the global maritime calendar.

The Chairman of DIMDEX 2012, Staff Brigadier (Sea) Mohammed Bin Nasser Al Mohannadisaid: "DIMDEX's MENC Conference provides a unique and high profile forum where naval commanders from across the GCC meet their international contemporaries to discuss the crucial issues facing today's maritime defence industry. RUSI's expertise in promoting debate between military and security communities in the GCC makes it an ideal partner for the MENC Conference."

David Roberts, Deputy Director of RUSI Qatar said: "RUSI is delighted to partner with DIMDEX 2012 for the MENC Conference, which is the region's only dedicated conference for senior naval professionals. The conference theme this year is "the strategic importance of maritime security in protecting the global economy" which will highlight the significant role that naval forces play in generating and maintaining the stability needed for business, economics and overall prosperity."