a
Naval Defense Industry News - UK
UK Ministry of Defence Minister announces FASGW(L) contract for Thales

Philip Dunne MP, Minister of Defence Equipment, Support and Technology, today announced that Thales has been awarded a contract worth €56 million (£48 million) from the UK Ministry of Defence (MOD) for the demonstration and manufacture of the Future Anti Surface Guided Weapon (Light) system.

The contract covers the development, qualification and integration of the FASGW(L) system – which comprises a five barrel launcher and a laser guidance system – for the Agusta Westland AW159 Wildcat helicopter, and provision of deployable test equipment.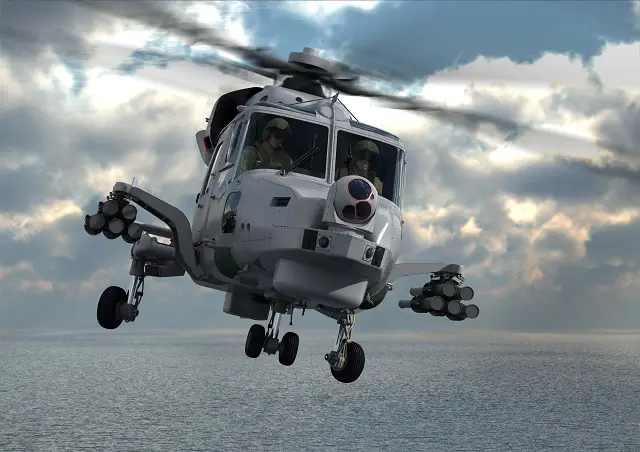 Royal Navy Agusta Westland AW159 Wildcat helicopter armed with Thales's LMM
Image: Thales

FASGW(L) is designed to use Thales's Lightweight Multirole Missile (LMM). LMM is a precision strike missile that can be fired from a variety of land, sea and airborne tactical platforms. It will provide the Royal Navy with a versatile, rapidly-deployable and highly-effective capability to defeat the threat from small ships and inshore attack craft.

The Minister made the announcement during a visit to Thales's Belfast facility, where both LMM and the FASGW equipment will be manufactured. This significant contract will sustain up to 60 jobs at the site and will provide additional opportunities for the supply chain partners in the UK and overseas.

Accompanied by Victor Chavez, CEO of Thales UK, and David Beatty, Vice President of Advanced Weapon Systems for Thales UK, the Minister was given a tour of the Belfast facility and a briefing on the technologies, products and capabilities at the site.