a
Naval Forces News - USA
US Navy's VP-45 squadron launched AGM-84D missile from P-8A Poseidon MPA for the first time
By Lt. Alec Verone VP-45 Public Affairs
Patrol Squadron (VP)-45 Combat Aircrew Four (CAC)-4 recently completed the first
P-8A
Coordinated Time on Top (CTOT) AGM-84D live missile shot with a Japan Maritime Self Defense Force (JMSDF) P-3C crew during RIMPAC 2014. The missile shot was comprised of a P-8A-launched AGM-84D Harpoon missile and a JMSDF P-3C- launched ATM-84D Harpoon telemetry missile. The result was a successful strike against a surface target – with both missiles arriving simultaneously.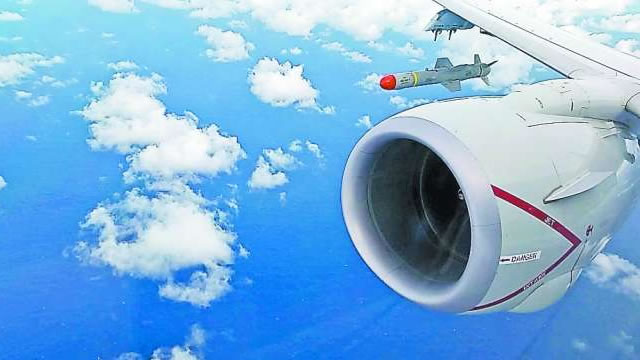 An AGM-84D Harpoon anti-ship missile is launched from an underwing weapon pylon of a P-8A Poseidon assigned to VP-45. It was the first P-8A "Coordinated Time On Top" exercise with the Japanese Maritime Self Defense Force as an element of RIMPAC. Picture: US Navy/VP-45
The challenging exercise displayed the P-8A Poseidon's ability to coordinate with a foreign asset to deliver air-to-surface missiles on a target.
"This on-target shot represents the tip of the iceberg for current and future capabilities of the Poseidon," said Lt. Cmdr. Carl White, officer in charge of the detachment.
"The P-8A platform will be an invaluable anti-surface warfare (ASuW) asset of the Maritime Patrol and Reconnaissance Force for decades to come."
Lt. Justin Rogers, tactical coordinator of CAC-4, said "This live-fire CTOT exercise took several months of preparation, planning and coordination with a myriad of organizations, including Commander Patrol and Reconnaissance Group (CPRG), Commander Patrol and Reconnaissance Wing 2 (CPRW-2) and CPRW-11."
During the recent RIMPAC 2014 exercise, Sailors from the VP-45 Ordnance Division load a Harpoon missile on the wing pylon of a P-8A Poseidon. It was the first P-8A Coordinated Time on Top (CTOT) AGM-84D live missile shot.
Picture: US Navy/VP-45
Rogers also noted the participation of Maritime Patrol and Reconnaissance Weapons School (MPRWS), VP-30), VP-26, Air Test and Evaluation Squadron (VX)-1, Pacific Missile Range Facility (PMRF), Fleet Weapons Support Team (FWST), Mobile Tactical Operations Centers (MTOC)-1 and -5, in addition to the expertise demonstrated by the JMSDF P-3C Orion aircrew.
White concluded, "We look forward to continuing the relationships we built at RIMPAC during on our upcoming deployment to the 7th Fleet Area of Responsibility."
On the 24th anniversary of the RIMPAC exercise, the P-8A Poseidon showcased its abilities in joint anti-submarine warfare, anti-surface warfare, and intelligence surveillance reconnaissance scenarios. The VP-45 Pelicans joined a coalition of 22 participant countries and six observer countries that worked together to execute RIMPAC 2014, a massive training evolution involving 48 surface ships, six submarines, more than 200 aircraft, and 25,000 personnel.

Link to P-8A Poseidon Maritime Patrol Aircraft (MPA) technical datasheet