a
Naval Industry News - Netherlands, Equador
Ecuador's coastguard boosts fleet with two Damen Stan Patrols (SPa) 5009

Damen has recently signed a contract with AstillerosNavalesEcuatorianos (Astinave) to construct two Damen SPa's 5009 for the Ecuadorian Coastguard. The Ecuadorian shipyard will build both vessels locally with Damen Technical Cooperation, which is Damen's method of 'building on site'.

Damen Technical Cooperation (DTC) will supply Astinave with prefabricated kits to build both vessels. As well as the numerous advantages that local construction brings to the contract-signing table, DTC uses proven Damen designs that guarantee technical and operational performance. Due to the sheer complexity of building the Stan Patrol 5009, Damen's agreement with Astinave includes on-site technical assistance during the construction and commissioning periods.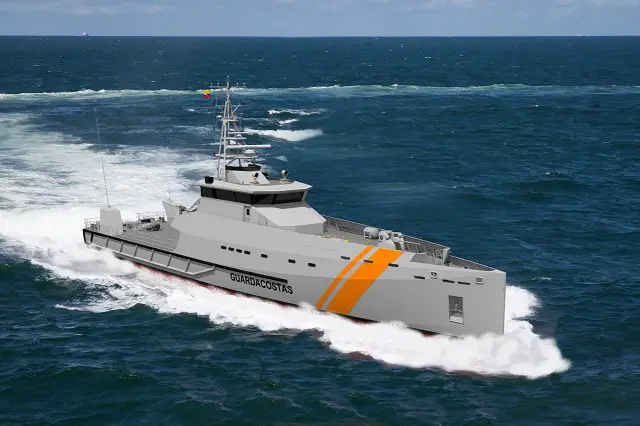 Artist Impression: Damen SPa 5009 of the Ecuadorian Coastguard
Picture: Damen

Strategic alliance
Although this latest contract represents the first Damen Stan Patrol 5009 for Astinave, the yard has built up considerable experience with Damen designs over the years. "We see Astinave not only as a client but also as a partner," says Ezequiel Najmias, Damen Sales Manager Americas. "Our relationship with them started more than a decade ago when both parties signed a Strategic Alliance Framework Agreement." Following the first building contract in 2007, "Astinave has built a great number of vessels in cooperation with Damen, including tugs, cutter suction dredgers, fast crew suppliers and patrol vessels."

Customer specifications
The Ecuadorian Coastguard will mobilise the two new Damen SPa's 5009 for general patrol duties – benefitting from a top speed of 23 knots provided by four fixed-pitch propellers. They specified that both vessels had the capacity to accommodate 32 people operating for up to 30 days without external support – something that required a number of design adaptations. "Our most challenging modification was to change the standard accommodation layout to fit one extra bed in each room without losing comfort," explains Mr Najmias. "By increasing the fuel capacity to 90m3, enlarging the storage and freezer rooms and installing a powerful water-maker, both vessels will be able to operate autonomously for 30 days." Ecuador's Coastguard already operates three Damen SPa's 2606, with a fourth currently under construction at Astinave's facilities on the banks of the Guayas River. After delivery of the two patrol vessels, the fleet will total six Damen builds.