a
World Naval Industry News - General Dynamics
U.S. Navy Awards General Dynamics $16 Million for F/A-18 Mission Computers
General Dynamics Advanced Information Systems, a business unit of General Dynamics , was awarded a $16.2 million contract by the U.S. Navy to produce Type-3 Advanced Mission Computers (AMC) for the F/A-18 E/A-18G Super Hornet aircraft. Since 2002 General Dynamics has produced, tested and delivered the F/A-18 AMC, which serves as the nerve center of the Super Hornet and provides the Navy with situational awareness and combat systems control.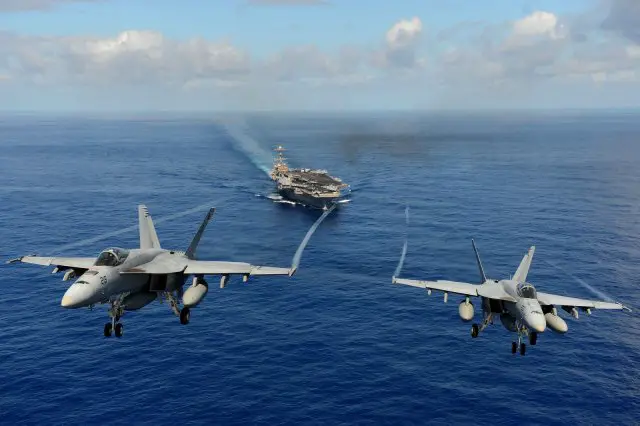 Two F/A-18E Super Hornets from the Tophatters of Strike Fighter Squadron (VFA) 14 overfly the aircraft carrier USS John C. Stennis (CVN 74)
"By leveraging commercial off-the-shelf technologies and an open architecture, we are helping the Navy keep lifecycle costs down, while strengthening mission-critical performance capabilities for the flight crew," said John van Dyke, senior director, Sensors and Processing at General Dynamics Advanced Information Systems. "We look forward to continuing to provide the Navy with our cost-effective, low-risk solution that addresses obsolescence, increases flexibility and helps the nation and its allies advance their mission."
Under the contract, General Dynamics will produce, build, test and deliver the Type-3 AMCs to the U.S. Navy and Australia. Designed to operate in extreme environmental conditions, the ruggedized, high-performance AMC processes high-speed data rates from aircraft sensors. The integrated information processing system also performs general purpose, input/output, video, voice and graphics processing, and is configurable to any operating environment.
This contract will be performed primarily at the General Dynamics facility in Bloomington, Minn., where it is supported by more than 125 employees. This contract will be completed by March 2016.