a
EURONAVAL 2014 Show Daily - CMN's Ocean Eagle 43 Mine Hunter
CMN Unveils the Innovative OCEAN EAGLE 43 Mine Hunter for Euronaval 2014
Following the innovative ship concepts unveiled in the past few years (such as the
Ocean Eagle 43
, the Combattante
SWAO 53
and
FS56
) CMN, the Cherbourg based shipyard, unveils for Euronaval 2014 yet another innovation: The OCEAN EAGLE 43 MH . Building on the experience gained during the development of the OCEAN EAGLE 43, whose first units will be put in the water at the end of 2014, CMN has declined its iconic trimaran design in mine warfare version with strong multirole capabilities.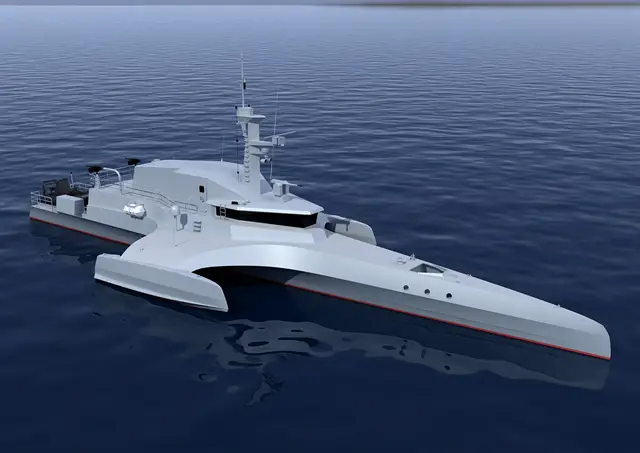 The OCEAN EAGLE 43 Mine Hunter will be officialy unveiled during Euronaval 2014
Picture: CMN
The OCEAN EAGLE 43 MH is a high-performance compact mine warfare trimaran vessel. It is multirole platform as it may conduct:
- Mine warfare missions (its main role)
- Littoral, EEZ or strategic offshore assets protection missions
- Intelligence, Surveillance, Reconnaissance missions
- Anti-piracy
- Anti-trafficking
- Special operations support missions
- Search and rescue

CMN designed the OCEAN EAGLE 43 MH to answer the needs of modern navies looking for versatile mine hunters able to perform various secondary tasks while combining ease of use and performance.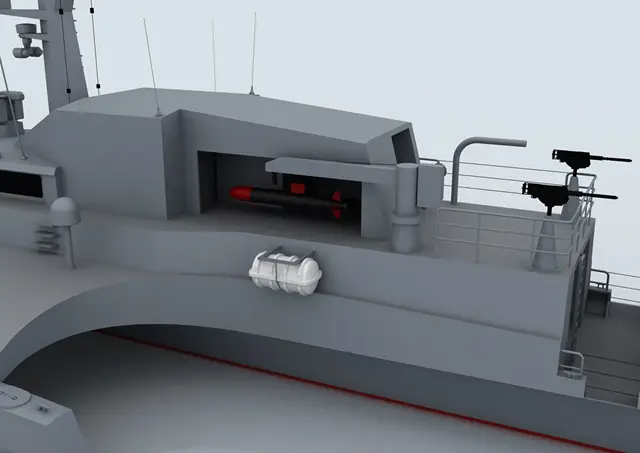 The OCEAN EAGLE 43 MH has all the provisions to accomodate and deploy UUVs and ROVs necessary for minewarfare missions. Picture: CMN
The architecture of the OCEAN EAGLE 43 MH offers an optimal compromise between performance and endurance at sea: The vessel may cover 2500 nautical miles at 14 knots with only 14 crewmembers.

Thanks to its modularity, the trimaran can accommodate all the infrastructure and equipment necessary for a mine warfare operation such as Unmanned Underwater Vehicles (UUVs), Remotely Operated Vehicles (ROVs) and combat divers.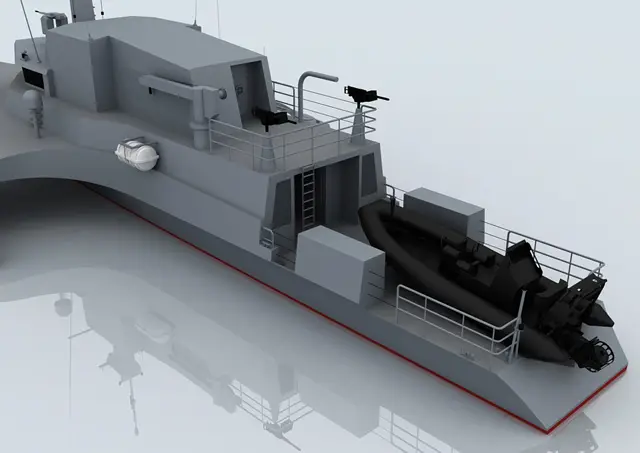 The OCEAN EAGLE 43 MH may accomodate an RHIB thanks to a launch and recovery system fitted at the stern. Picture: CMN
The mode of operation of the mine hunter is based on the use of autonomous vehicles and ROVs on board the OCEAN EAGLE 43MH acting as a mother ship. Operations are conducted from a safe distance of the ship. Long range mine detection enhances the security of the mother ship, ensures the integrity of the crew and ensures mission success.

The OCEAN EAGLE 43 MH comes with self-defense capabilities including a 20mm remote weapon station plus two 12.7mm machine guns, the three combined offering 360 degrees coverage of the vessel.

The OCEAN EAGLE 43 MH is also fitted with electronic warfare systems, C-ESM, electro-optical sensors, surveillance and navigation radars. The unit is interfaced with a "Command and Control" C2 system and with the "Integrated Navigation System."

The OCEAN EAGLE 43 MH is, par excellence, the modern mine hunter that meets the needs of navies worldwide looking to procure a new concept of efficient ship at reduced acquisition and operating costs.