a
Naval Forces News - USA
US Navy Tests MQ-8B Fire Scout VTOL UAV aboard US Coast Guard Cutter Bertholf (WMSL 750)
The U.S. Navy completed an MQ-8B Fire Scout demonstration aboard U.S. Coast Guard Cutter (USCGC) Bertholf (WMSL 750) on Dec. 12 as part of the Coast Guard's ongoing efforts to assess the potential for future unmanned air system (UAS) operations from the 418-foot National Security Cutter class.
An MQ-8B Fire Scout UAS is tested off the Coast Guard Cutter Bertholf near Los Angeles, Dec. 5 2014. The Coast Guard Research and Development Center has been testing UAS platforms consistently for the last three years. (U.S. Coast Guard photo)
The 10-day demonstration off the coast of Southern California met all the Coast Guard's objectives, performing launch and recovery operations, conducting various simulated search patterns and transmitting data and imagery.

UAS have the potential to significantly increase the surveillance range and capabilities of our Coast Guard cutters and this demonstration will help to inform the service on the best way to proceed forward with the acquisition of the right unmanned capability in the future, said Coast Guard Lt. Cmdr. Dan Broadhurst, UAS platform manager.

"This Navy team has extensive and exclusive unmanned helo expertise and we're happy to provide those lessons learned to the Coast Guard," said Bob Ernst, Multi-Mission Tactical UAS program (PMA-266) chief engineer at Naval Air Station Patuxent River. "Our team worked rapidly over the last 11 months to ensure we were ready to support their efforts as well as test new system capabilities for the Navy."

While the MQ-8 system has successfully operated off frigates, guided missile destroyers and littoral combat ships (LCS), this event marked the first at-sea radar test and first integration of the mobile ground control station (GCS) configuration.
Coast Guard Research and Development Center scientists are assessing unmanned aircraft system operations from a national security cutter during a two-week demon- stration begun Dec. 4, 2014. On the first day of testing, 22 successful flights were conducted from Coast Guard Cutter Bertholf.
Video by Petty Officer 2nd Class Luke Clayton
Earlier this year, the Navy teamed up with the U. S. Coast Guard Research and Development Center to coordinate the procurement and installation of MQ-8 equipment in support of the technical demonstration.

The Navy team consisted of members from PMA-266's Ship Integration group, NAVAIR's Rapid Capability Engineering and Integration Department (AIR 4.11), the Integrated Systems Evaluation, Experimentation, and Test Department (AIR 5.1), Support Equipment and Aircraft Launch and Recovery Equipment Department (AIR 4.8) and members of Naval Sea Systems Command's Unmanned and Robotics Systems Branch (G82).

"The existing MQ-8 system was already 90 percent compatible with the cutter-class," said Harsha Desai, lead engineer for the Coast Guard integration effort. "To minimize the impact to the ship, we developed a mobile ground control station configuration for our Mission Control System."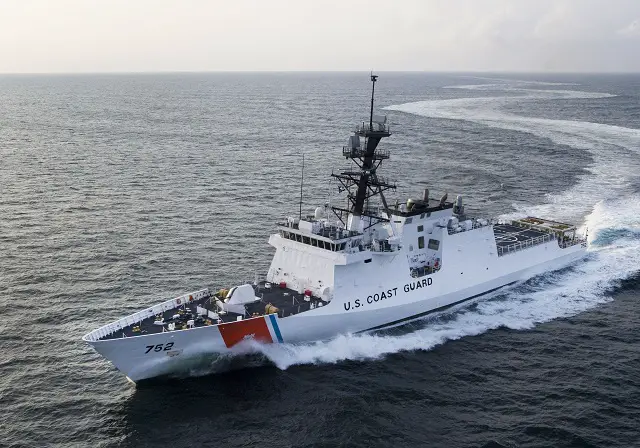 Legend Class National Security Cutter of the USCG (the third NSC, Stratton WMSL 752, pictured here) Picture: Ingalls Shipbuilding
The Navy will also benefit from this new configuration. The mobile GCS provides flexibility to rapidly respond to tasking and has the potential to drive down future integration costs, Ernst said.

The team also used the event as an opportunity to test an MQ-8B equipped with radar, which will increase the situational awareness and threat warning in a high-traffic littoral, or close to shore, environment. Deployment with this new capability is planned for next year.

Since 2009, the MQ-8 Fire Scout has flown more than 14,000 operational hours, primarily in the Mediterranean, Afghanistan and Horn of Africa regions, providing intelligence, surveillance and reconnaissance support to operational forces. It recently made its first deployment with USS Fort Worth (LCS 3) in November.