a
Naval Forces News - Russia
Russian Shipyard Sevmash Ordered New Equipment for Overhaul of Kirov Class Cruiser Nakhimov
Russia's largest shipbuilding company JSC PO "Sevmash" based in Severodvinsk has published the list of new equipment being ordered for the overhaul of Admiral Nakhimov. The list is probably accurate because it was published on a Russian government online B2B trading platform. Admiral Nakhimov is a Kirov class nuclear-powered missile cruiser (Project 1144.2).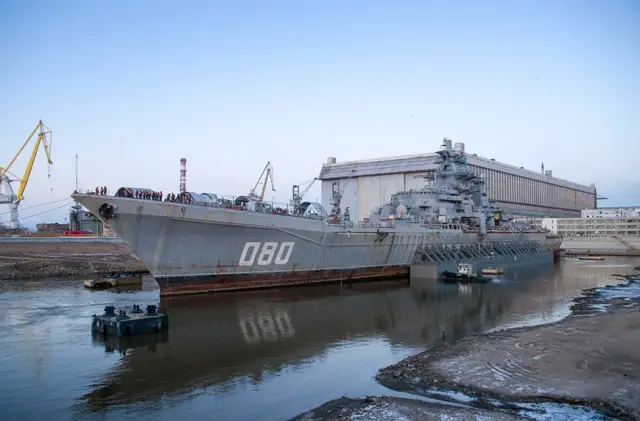 The Admiral Nakhimov nuclear-powered missile cruiser (project 1144.2) in the dry dock at Sevmash shipyard in Severodvinsk in November 2014. Picture: Sevmash
List of equipment purchase released by Sevmash on a Russian government website (translated with google):

UKSUR LA-14H-11442M - 120 million rubles. [universal naval fire control system]
Product 3C-14 - 1.2 billion rubles. [launchers vertical launch]
CM-456-22350 - 88 million rubles. [set of tools loading]
Product 3M-48 - 120 million rubles. [anti-aircraft missile system S-300FM]
3M87-1F complex - 280 million rubles. [modification SPAR Dirk M?]
3R87-1F, 4387-2F - 80 million rubles. [combat module SPAR 3H87-1]
3P 86m - 75.2 million rubles. [control module SPAR Dirk]
ASU defense - 80 million rubles.
MTPK Package - 202.96 million. [mine and torpedo antisubmarine complex]
RESU 5P-10 - 40 million. [fire control system "Puma"]
MEDC 5P-20K - 60 million rubles. [multifunctional electronic systems]
Product MP-650 - 144 million. [Radar "boletus"]
Product 5P-30P - 70.9 million rubles. [Radar data processing system]
NRS MR 232-3, MK-54IS - 20 million rubles. [navigation radars, electronic chart display and information system]
NRS MP-231 - 10 million. [navigation radar]
Complex MTK-M1.2 201 - 200 million. [multifunctional optoelectronic television complex]
5P-28-11442M - 351.8 million. [EW complex TC-28?]
Product Enchantress-18280 - 20 million rubles. [station VHF radio direction finding]
5P-23 - 40 million.
System Minotaur ISPN-M.1 - 120 million rubles. [towed sonar]
Equipment MGS-30M - 4 million. [emergency control system]
Sonar MG-757.3 - 14.6 million rubles. [lowerable GAS "Anapa-M"]
PHA-WG products Amga M - 10 million rubles. [ASG reception sonobuoys]
SIC TS - 500 million rubles. [complex system of technical facilities of the ship]
ICS MN - 460 million rubles. [management information system, multi-purpose]
The bridge IC-11442 - 12 million rubles. [Integrated Bridge System]
System Sigma-11442M - 160 million rubles. [combat information management system]
CEB and ECH Gnome-2M-11442 - 48 million rubles. [system of universal time and reference frequencies]
Navigation system Czardas 11442M - 160 million rubles.
The complex nature of hydrometeorological support K - 10 million rubles.
The product lock-11442M - 28 million rubles. [System Weapon joint safe application]
AKC R-779-16 "Ruberoid" - 1.2 billion rubles. [automated complex communication]
Product Sycamore-MP - 25.4 million rubles. [shipboard equipment universal time]
Equipment P-403 - 44 million. [warning equipment]
Desalination P5S-2 - 68 million rubles.
Turbo compressor chillers MTHM-2000RM - 100 million rubles.
Complex CCC "GAMMA-01F" - 44 million rubles. [complex technical means of security and fire automatics]
The monitoring system of the premises of the ISPO-M-11442M - 16 million rubles.
Further development of design documentation for complex visual take-off and landing of the helicopter "Palubnik-1-11442M" - 17.7 million rubles.
Complex software range navigation and landing helicopters B-7M - 20 million rubles.
Product GUVK - 60 million rubles. [gyroscopic device production rate]
Product Ilmen - 60 million rubles. [Complex generation, conversion and transmission of information from the system to ensure carrier-based aircraft]
The complex flight data processing - 200 million rubles.
OK-650B-3 - 220 million rubles. [Pressurized water reactor?]
The product is 43 - 16 million.
KPAS NC - 100 million rubles.
SU | 70-08 - 80 million rubles.
Equipment TV CBS-IPTV-11442M - 40 million rubles.
GMDSS - 16 million rubles.
Transas T104 - 8 million.
Fire-M - 12 million rubles.
Xico MRC complex - 60 million rubles.
CT-308-06 - 160 million rubles.
Cascade M - 20 million rubles.
AC MTT - 11.9 million rubles.
MDM-2 - 147 million rubles.
reinforcement systems PPU - 745 million rubles.
File picture: Aerial starboard quarter view of the Russian Northern Fleet Kirov class nuclear-powered guided missile cruiser Admiral Nakhimov (CGN-080) underway.
The Kirov-class cruiser Admiral Nakhimov, known as the Kalinin until 1992, was commissioned in 1989 and mothballed in 1999. It has since been docked for upgrades at the Sevmash shipyard in the northern Russian city of Severodvinsk, on the White Sea.

Sevmash deputy head Sergei Marichev said in a statement in June 2013 that the Admiral Nakhimov would become the most advanced heavy nuclear-powered missile cruiser in the Russian Navy. A press release at the time mentionned that the vessel should rejoin the fleet in 2018.

Originally four Kirov-class cruisers were built for the Soviet Navy. As of today only one vessel, the Pyotr Velikiy, is still operational. Russia initially planned to return two other Kirov-class vessels to service (in addition to Admiral Nakhilov) after several years of disuse. However, it was later indicated that the condition of the reactor cores of both ships was such that it would prove difficult, expensive and potentially dangerous to remove the spent nuclear fuel and repair the cores.