a
Naval Technology - Kongsberg VL JSM anti-ship missile
Exclusive: New Details on the Kongsberg Vertical Launch Joint Strike Missile (VL JSM)
Navy Recognition
was the first to reveal images and (limited) details on the Vertical Launch Joint Strike Missile project when our team stumbled upon a scale model of the anti-ship missile project on the Kongsberg's booth in October last year during the AUSA show. You can read about it
here
. Kongsberg has since got back to us with some fresh details and an illustration.
Artist impression provided by Kongsberg showing a VL-JSM being launched from a Fridtjof Nansen-class frigate. Image: Kongsberg
Here is the information provided by a Kongsberg representative (regional director of missile systems) by email. Our original email included various questions such as the reasons why JSM was picked over the NSM for vertical launch application, when the development of VL-JSM started, where the requirement comes from or how long the booster stays attached to the missile:

As you know, the JSM was originally designed for the bomb-bay of the F-35. During the development we discovered that this would also mean that it could comply with the requirements for the MK 41 launcher. Accordingly, we decided based on our general understanding of the market at the time and input from some of our potential customers to investigate the viability of making a VL-version of the JSM. JSM was selected over NSM simply because less adaptation was needed.

We cooperated with several companies in defining this product, amongst others Lockheed-Martin for studying the integration to the MK 41 launcher.

How long this particular booster is attached to the missile is information we do not disclose. We have looked at several options for booster and other elements of the VL-JSM product. The studies concluded positive, and the reason for bringing this mini-version to some exhibitions is to discuss this in general with any potential customers. Alterations to what you have seen can naturally be necessary in order to accommodate program specific requirements.

The VL JSM model on display during AUSA 2014 (in the middle, with an NSM model on the left and Penguin on the right). Note the retractable wings and large booster.
During INDODEFENCE 2014 defence exhibition in Jakarta, Indonesia, a Kongsberg representative showed us a fact sheet about the VL-JSM that emphasized on the following key points::
» US Navy and other navies have a requirement for a new VL missile
» JSM VL is compatible with Mk-41 VLS
» JSM VL is identical to JSM with an attachment mechanism for booster
» [There are] significant synergies between air launched & vertically launched JSM
» Feasibility studies for JSM VL; co-operation Kongsberg, Lockheed Martin, BAE Systems (US)
» Integration with AEGIS is already accomplished through the RNoN Nansen program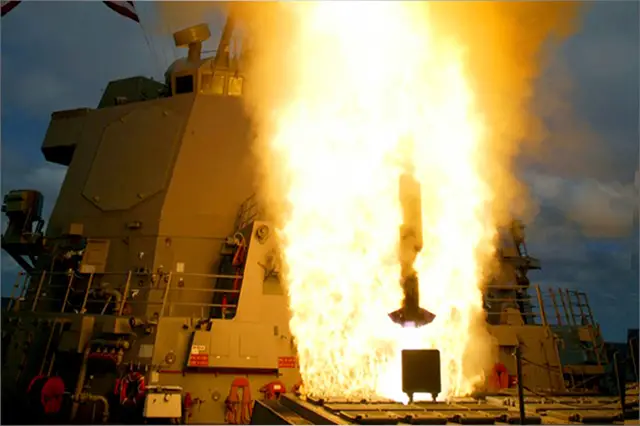 Lockheed Martin has provided its MK 41 Vertical Launching System to the U.S. Navy for more than 32 years. The combat-proven system has been deployed by the U.S. and 12 allied navies on 21 ship classes. Picture: Lockheed Martin
Contacted by
Navy Recognition
, a Lockheed Martin MST (the division that produces the MK41 VLS) spokesperson was willing to comment on the launcher exclusively:
"[Lockheed Martin] can integrate most missiles with the MK 41 Vertical Launching System pending the missiles meeting technical and safety requirements, and conduct feasibility studies to determine whether a missile can work with the MK41 VLS interface."
Lockheed Martin MFC (the division that develops the LRASM anti-ship missile) was not willing to comment about the possible competition a VL-JSM could represent.
We also contacted BAE Systems Inc who did not reply to an e-mailed request for comment about their involvment in VL JSM.
It seems that the development of a Vertically Launched variant of the JSM is mainly driven by the potentially large market of the U.S. Navy: The U.S. Navy is expected to replace its surface launched Harpoon anti-ship missiles with the winner of the Offensive Anti-Surface Warfare (OASuW) Increment 2 programme. While Lockheed Martin's LRASM was selected for OASuW Increment 1 in February 2014 (funding for development, test and integration of LRASM on U.S. Navy F/A-18E/F Super Hornet and U.S. Air Force B-1B Lancer strategic bomber) the Increment 2 will address the requirements for an advanced, autonomous, anti-ship missile capable of being launched from the air, surface and sub-surface. In September 2014, the
U.S. Navy tested a Kongsberg NSM
from USS Coronado (LCS 4).
Navy Recognition
revealed during an naval defense exhibition in Poland last year that
Kongsberg is also working on a submarine launched variant
that could answer the OASuW Increment 2 requirements.
As we were pointing out in our October 2014 article, a VL-JSM would be a direct competitor to Lockheed's LRASM Long Range Anti-Ship Missile for OASuW increment 2.
To learn more:
Link to NSM/JSM missiles technical datasheet