a
Analysis - Naval Defense Market
Analysis Shows That Rising Maritime Security Threats Sustain Naval Defense Market Globally
Deteriorating international relations across the world have caused countries to authorize extensive naval modernisation and re-armament programmes in Asia-Pacific, the Middle East and Russia, according to a new report by industry analysts Frost & Sullivan.

The new analysis from Frost & Sullivan, 'Global Military Naval Vessels Platforms Market Assessment', finds that the cumulative naval vessels new platforms segment's expenditure is expected to reach $376.07 billion by 2023, at a compound annual growth rate (CAGR) of 1.0%. The military vessels' modernisation/upgrade segment, estimated to be worth 59.26 billion from 2014 to 2023, is likely to generate the highest CAGR of 2.6%.

The Royal Navy's future Type 26 Global Combat Ship frigate will be a globally deployable, multi-mission warship. Image: BAE Systems
The Ukraine crisis, territorial disputes on the South China Sea and growing tensions in the Middle East, have ensured that the market growth remains stable, although low.

The market gained the most revenues from the procurement of multi-role frigates. The frigate is a very versatile warship, which merges together high speed, anti-ship missiles, air defence, and anti-submarine warfare capabilities with moderate operation and maintenance costs. Therefore, the frigate is becoming a primary vessel in most of the navy fleets.

"Military vessels based on the multi-mission modular vessel (MMMV) design will be more common and affordable for end users," said Frost & Sullivan Aerospace & Defence Industry Analyst Dominik Kimla. "Additionally, Frost & Sullivan expects more standardisation among various MMMV designs across naval companies. This will translate to long-term cost efficiency on the procurement and support-in-service of MMMV vessels."

The report says North America is likely to retain its position as the top region in terms of military vessels spending during 2014-2023. Its share in global military naval vessels revenue is forecast to marginally grow from 34.4% in 2014 to 34.7 percent in 2023. This steady procurement spending is a result of ongoing projects; however, sequestration could impact procurement in in the next five to seven years.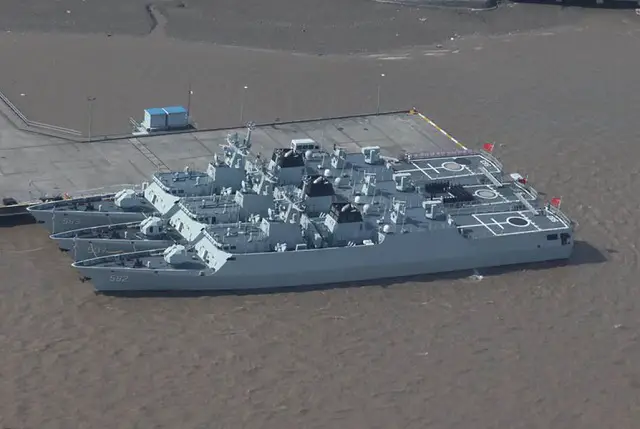 Newly built Type 056 Corvettes at a shipyard in China. The same type is being offered on the export market.
The market is dominated by Western European, American, and Russian naval companies. However, shipyards in Asia-Pacific, particularly South Korea and Japan, will increase their market position in the naval domain due to intensifying competition among original equipment manufacturers (OEMs). It is expected that Japanese companies such as Mitsubishi Heavy Industries and Kawasaki Heavy Industries will substantially augment their presence in the naval market with the easing of a decades-old self-imposed defence export ban.

Significantly, Chinese shipyards are increasing their presence in the naval market by offering relatively advanced and low-cost solutions. They also strategically offer competitive financial packages to fund military vessel deals in acknowledgement of navies' limited budgets in most countries.

There is a clear trend across regions toward procuring indigenous naval capabilities. National navies award projects to domestic shipbuilders, giving a boost to in-country construction and technology transfer. Technology transfers and partnerships with local shipyards are important decisive factors for most naval end-users.

"New models of acquiring naval capabilities, such as leasing or public-private partnerships, will be implemented to provide necessary military capabilities," noted Kimla. "Therefore, naval companies need to adopt a proactive approach to addressing customers' needs and provide naval capabilities in the framework of leasing and private-partnership agreements."