a
Naval Forces News - France, USA
Marine Nationale and US Navy Sailors Exchanged EOD Know-How on board Jean Bart Frigate
On January 22, 2015, six US Navy Explosive Ordnance Disposal (EOD) divers participated in an exchange of know-how with the crew of the French Navy (Marine Nationale)
anti-aircraft frigate Jean Bart
. For the past 3 months
Jean Bart
is deployed with aircraft carrier USS Carl Vinson in the Carrier Strike Group One for escort mission. In order to share their know-how and to strengthen interoperability, 6 US clearance divers were airlifted to the
Jean Bart
for an "EOD day".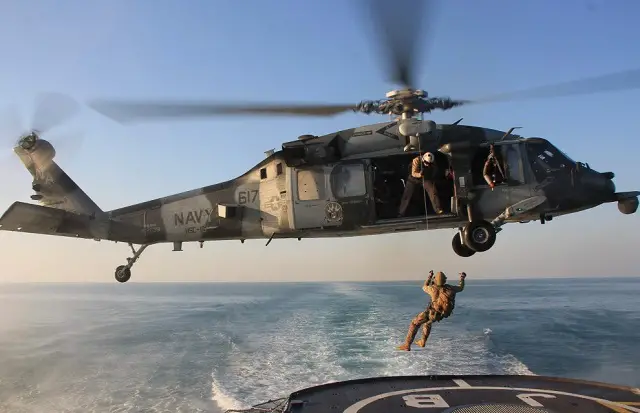 U.S. Navy EOD divers are fast ropping on board French Navy anti-aircraft frigate Jean Bart from an MH-60S Seahawk belonging to Helicopter Sea Combat Squadron 15 (HELSEACOMBATRON 15)
HSC-15 'Red Lions'. Picture: French Navy

The day began with a diving under the hull of the frigate by French-American mixed groups of divers. Followed by a joint training in close quarters progression and combat organized by the visit, board, search, and seizure team (VBSS). The discovery of a dummy bomb has allowed the US Navy EOD experts to demonstrate their methods of neutralization to the French Naval Fusiliers and RECONEDEX (Recognition, Neutralization, Removal and Destruction of explosives) personnel onboard.

This long period of integration of a French vessel within a US aircraft carrier in operation, unprecedented in the recent history of the French Navy, has allowed (as showcased by this EOD day) to reach a high level of knowledge and mutual trust among the sailors of both nations.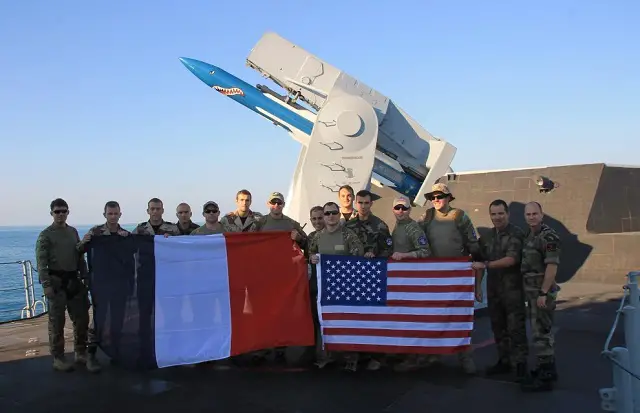 Marine Nationale and US Navy EOD teams trained together and shared their know-how on board French Navy anti-aircraft frigate Jean Bart. Picture: French Navy
Launched on 19 September 2014, the Chammal operation aims at the request of the Iraqi government and in coordination with the allies of France in the region, to provide air support to Iraqi forces in their fight against the terrorist group named Daech. CHammal is structured around nine Rafale, six Mirage 2000D, a C-135 FR, a maritime patrol aircraft Atlantique 2 and anti-aircraft frigate Jean Bart, integrated into the USS Carl Vinson carrier battle group, operating from the Persian Gulf.