a
World Naval Forces News - France
DCNS mates first sections of second Barracuda, futur class of French nuclear powered submarines
DCNS today mated the first hull sections of SSN Duguay-Trouin, the second Barracuda-type nuclear-powered attack submarine ordered in June 2009 by defence procurement agency DGA for the French Navy. This is a major milestone in the construction of the second-of-type SSN's pressure hull. Between 2017 and 2027 six Barracudas will replace the six Rubis/Améthyste-class boats currently in service.

The mating of the two midship pressure rings took just under two months to complete. Hull sections 12 and 13 will house the ops room including the boat's main command, navigation and operations systems. The rings weigh over 30 tonnes and were butt-welded along their entire circumference.

Of the 21 hull rings making up SSN Duguay-Trouin, ten have been completed and eight are under construction. Hull ring mating work will continue until early 2013.

Hull rings are mated using a sophisticated new controlled-atmosphere technology ensuring both faster and superior welding. Improvements from preparation and adjustment to preheating, welding proper and inspection enabled the sections to be welded together in less than two months, or 15% faster than previously.

The Barracuda programme represents a vital contribution to the renewal of France's naval forces and a large proportion of the group's production workload as it will keep DCNS teams and facilities busy until 2027.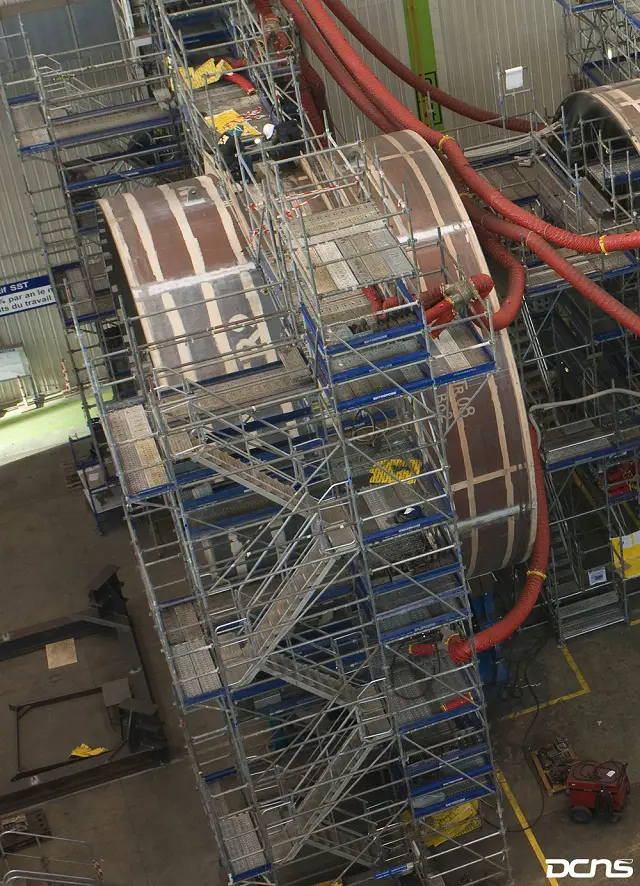 The two sections about to be connected
(picture: DCNS)


Baracuda SSN class model shown by DCNS during Euronaval 2010
(picture: Navy Recognition)
In December 2006, the DGA awarded the overall Barracuda contract to DCNS, appointing the group as programme prime contractor and Areva-TA as nuclear powerplant prime contractor. The firm order placed in December 2006 calls for the development and construction of first-of-class SSN Suffren and through-life support during the first years of operational service. The second and third tranches, confirmed in 2009 and 2011 respectively, cover the construction of SSN Duguay-Trouin and SSN Tourville, respectively the second and third of type.

Between 2017 and 2027, Barracuda-type SSNs will replace the Navy's current-generation Rubis/Améthyste-class boats. Mission capabilities range from intelligence gathering and special operations (by deploying commandos and special forces) to anti-surface warfare, anti-submarine warfare, land strikes and contributions to joint operations wherever the type's interoperability and associated capabilities (including discrete communications and tactical datalinks) are required. The weapons payload will include next-generation type F21 heavyweight torpedoes, SM39 anti-ship missiles and MdCN-type naval cruise missiles.