a
Sea-Air-Space 2015 - BAE Systems advertorial
Industry Advances Long Range, Precision Munitions (by: BAE Systems)

To remain ahead of potential adversaries, the Department of Defense recently announced its Third Offset Strategy, which is designed to guide future investments with a focus in four areas: robotics, miniaturization, big data and advanced manufacturing. In addition, Chief of Naval Operations Admiral Greenert recently asked industry to help the Navy in three areas: reducing reliance on gunpowder (moving towards electromagnetic and high energy weapons); increasing stamina of unmanned underwater vehicles; and locking down cyber doors.

While these objectives are wise and should guide much of the Navy's future investments, the Navy can and should take a number of steps to leverage current industry investments. If acted upon, these steps would provide three benefits to the Navy: additional capability at less cost in the near term, complimentary capabilities to those being developed, and a hedge in the event some of the offset and future technologies do not mature before they are needed.
DDG 1000 class firing a LRLAP from one of its 155mm guns
One area where such steps are possible is in naval gunammunition. For decades, militaries have achieved greater range with larger guns. Recent improvements in guidance systems, seekers, and rocket motors, which enable these components to survive gun blast, have enabled a dramatic increase in naval gun capabilities through improved ammunition.For example, the Army's 155mm Excalibur ammunition and the Navy's 155mm Long Range Land Attack Projectile (LRLAP) both include navigation components, and the LRLAP includes a rocket motor. The Excalibur enables precise fires to ranges greater than 30 kilometers, and LRLAP enables precision fires to ranges greater than 100 kilometers.
BAE Systems Hyper Velocity Projectile (HVP) 5 inch variant
In the last year, the Navy and other government agencies have actively solicited information to learn more about industry advancements and the potential for increased capabilities. One such example is the Navy's 2014 request for information (RFI) to seek industry capabilities for a long-range precision guided 5-inch ammunition. Another example is the Defense Advanced Research Projects Agency (DARPA) issuing of a Broad Agency Announcement to seek possible solutions to improve the effectiveness of smaller caliber guns and ammunition against anti-ship missiles.

In addition to information solicitations, the Navy has also funded the development of a long-range precision munition, the Hyper Velocity Projectile (HVP), as part of the development of the Electromagnetic Railgun. While ultimately intended for the future Electromagnetic Railgun in a version that will use only kinetic energy to generate lethality, HVP is being designed to support multiple platforms, including the Navy's 5- and 6-inch gun systems with a version that will include a warhead.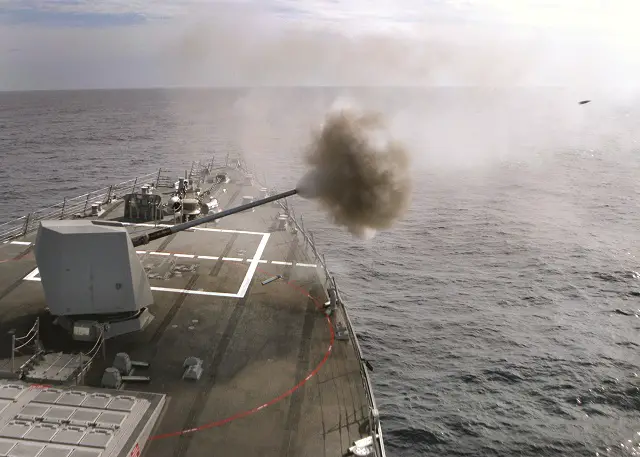 The BAE Systems Mk45 Mod 4 main gun is being fitted on all new-built (or upgraded) US Navy destroyers and cruisers
The funded programs for long-range precision ammunition and the Navy's recent information requests reflect growing interest in munitions that increase current ranges, address static and moving targets, procure relatively mature solutions, and minimize changes to in-place gun systems.
The RFI issued in 2014 demonstrates such interest to enhance the capability of the
Mk45 Mod4
guns on the Navy's Destroyers and Cruisers. During the Mk45's long history, improvements have been made in ammunition handling, digitization and incremental range improvements, but the gun's range is limited to 13 nautical miles and fires unguided ammunition.

BAE Systems' Multi Service - Standard Guided Projectile (MS-SGP)

BAE Systems is pursuing two unique and complimentary solutions to address these shortfalls. – the
Multi Service - Standard Guided Projectile (MS-SGP)
and the
HVP
– both of which will nearly quadruple current range options when fired from a Mk45 Mod 4 gun. The MS-SGP is designed to achieve a range of up to 54 nautical miles and the HVP 5-inch variant 50. Both are designed for a high degree of accuracy. While both are capable of addressing multiple mission sets, their optimal capabilities differ. Upgrades of this natureare significant because they would give the Navy a more cost-effective and target-appropriate option for land attack missionswhich Cruisers and Destroyers are called upon to support, as well surface threats at longer ranges and air threats.
The Navy's operations in Libya in 2011 are a prime illustration of the cost-savings comparisons between conventional missiles and long-range and precision gun-launched projectiles. In the first few days of operations,
the U.S. and U.K. navies launched more than 160 Tomahawk missiles
. The cost of this operation was close to a quarter billion dollars. While the Tomahawks were certainly effective in knocking out the enemy, if the Navy had available a 5-inch gun with affordable, long-range precision munitions, it likely could have addressed many these targets for drastically less cost. Using the figures in the Navy's 2014 RFI, solutions were sought costing less than $55,000 per round. Had such an option been available in Libya, taxpayers could have saved hundreds of millions of dollars.
While the Navy takes steps to fulfil the promise of the recently announced Third Offset Strategy, it should also take cost-effective, near-term steps to leverage industry investments and recent technology improvements with ammunition. Doing so would improve its ability to address today's threats on the right side of the cost curve and soon.
Visit BAE Systems during Sea-Air-Space 2015 on booth #2439