a
Naval Industry News - Canada
Lockheed Martin Canada Awarded Implementation Subcontract For Arctic/Offshore Patrol Ships

Lockheed Martin Canada announced today that it has been awarded the implementation subcontract by Irving Shipbuilding Inc. as command and surveillance system integrator for the Royal Canadian Navy's (RCN) new class of Arctic/Offshore Patrol Ships (AOPS).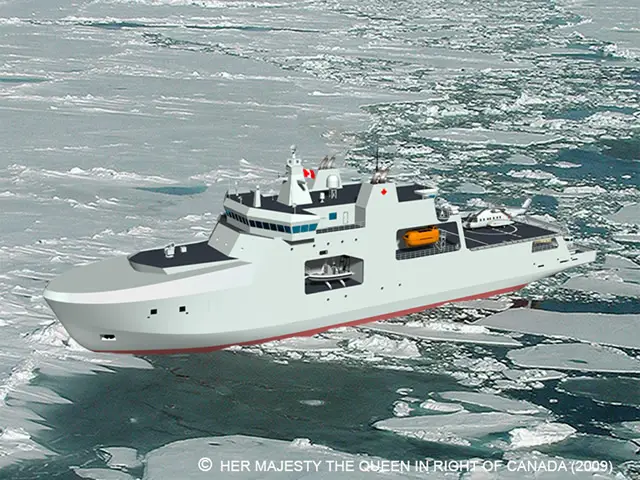 Artist Impressions of the future Arctic Offshore Patrol Ship in the ice

Lockheed Martin Canada is one of AOPS Prime Contractor Irving Shipbuilding's Tier 1 suppliers for delivering the AOPS vessels as part of the National Shipbuilding Procurement Strategy (NSPS). With a contract valued at more than C$170M, Lockheed Martin Canada is responsible for key integration of data and information sources to increase the ships' situational awareness and provide command, control and decision support at all levels of command for the new vessels.

Rosemary Chapdelaine, vice president and general manager of Lockheed Martin Canada's Ottawa-based Mission Systems and Training (MST) business, said "Our team facilitates tight collaboration with the shipyard, subcontractors and the Navy, and we are pleased to be moving to the next stage of the AOPS program on schedule. Our ability to coordinate among these stakeholders on complex programs is our blueprint for success."

Lockheed Martin Canada was able to leverage its innovative combat management system from the Halifax Class Modernization (HCM) program for surveillance purposes on AOPS, offering a highly capable, low-risk solution for the project.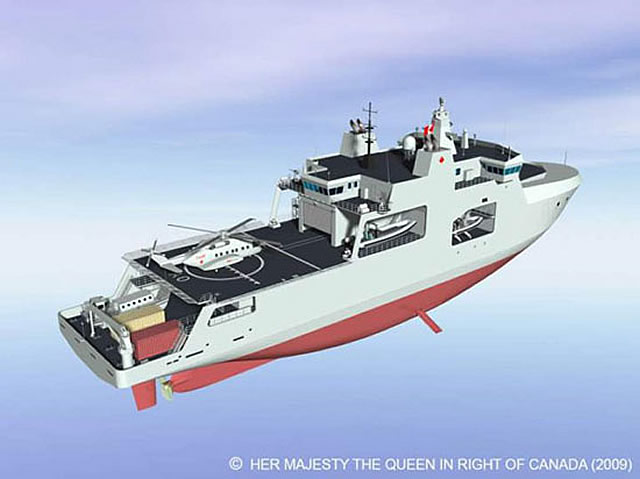 Stern view of the future Arctic Offshore Patrol Ship

Chapdelaine continues, "This award, along with our continued milestone achievements to extend the life of the Halifax-class patrol frigates, strengthens our team's capability to deliver enduring value for the RCN and for Canada."

The naval capability built in Canada also provides an entry into the world market. The recent contract award for the New Zealand Frigate System Upgrade is directly attributable to the expertise and record of success Lockheed Martin Canada has established with HCM and now AOPS.

Success on these Canadian naval programs is in large part attributed to Lockheed Martin Canada's strong Canadian supply chain. LM Canada manages four Canada-based subcontractors as part of the AOPS contract. These subcontractors were selected from a competition during the design phase. Across all programs, the company has managed over 700 contracts with Canadian companies across nine provinces in the country. This work offers Canadian companies an opportunity to broaden their portfolios to sustain and grow their businesses.

"Lockheed Martin Canada is a key partner in achieving best quality and value for Canada in the production of the Arctic Offshore Patrol Ships," said Kevin McCoy, President of Irving Shipbuilding Inc. "We have worked with them over the last 3 years to find the right command and surveillance solution to best serve the Navy in these important ships and to achieve the best overall benefit to Canada. I am pleased to have them on the AOPS team."

AOPS is a Government of Canada procurement project for the RCN. The project is expected to equip the Canadian Forces with six naval ice-capable offshore patrol ships able to assert and enforce sovereignty in Canada's waters where and when necessary, including the Arctic. The ships will conduct missions for northern surveillance, search and rescue, and interoperation with the Canadian Forces and other government organizations. The first Arctic/Offshore Patrol Ship is scheduled to be delivered in 2018.