a
Naval Forces News - Russia
Russian Navy Commander Announces New Supply Vessel and Ice Breaker for the Fleet
According to the Russian Navy Commander-in-Chief Admiral Victor Chirkov, the Pacific Fleet will be equipped with new supply vessels including a sea-going Tug and a new generation ice breaker: "On April 18 the Pacific Fleet will be equipped with the Alexander Piskunov tug which is capable to perform supply tasks far from home port".

This is a multidimensional tug. Its cruising range is about 4000 miles and it allows the vessel to perform supply tasks within warship detachments and ship groupings effectively and continuously.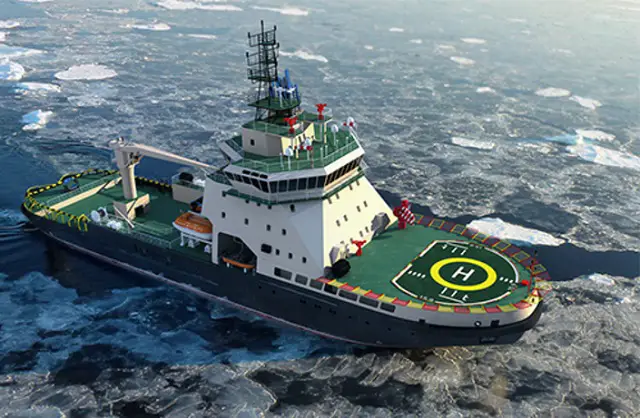 Icebreaker of Project 21180
Victor Chirkov also stated: "At the 'Admiralteyskiye verphi' shipyard on April 23 the project 21180 Ilya Muromets diesel-electric ice-breaker will be laid down for the first time in decades. Its endurance is about 2 months".

The ice-breaker will perform supply missions within the Russian Navy Arctic ship grouping. She is capable to break 80sm wide ice and her cruising range is about 12000 miles.

Project 21180 ship is a state-of-the-art icebreaker of the new generation based on the new electric propulsion principles, two 3.5 MW propulsion units and state-of-the-art power plant.

Major characteristics of Project 21180: displacement – 6,000 t, length - 84 m, beam - 20 m, breadth- 10 m, draught - 7 m, crew - 32.

In the future, the Ministry of Defence is going to build a series of 4 icebreakers under the programme on support fleet renovation.