a
Naval Industry News - Germany
German Navy Second F125 frigate "Nordrhein-Westfalen" christened at TKMS Shipyard in Hamburg
The second of a total of four 125 class frigates for the German Navy was christened "Nordrhein-Westfalen" last week at the Hamburg site of ThyssenKrupp Marine Systems. Following the christening of the first frigate "Baden-Württemberg" in December 2013 this is a further important milestone in the shipbuilding program for this frigate class. Hannelore Kraft, Premier of the German state of North Rhine-Westphalia after which the ship was named, performed the christening ceremony. The frigate "Nordrhein-Westfalen" is scheduled to be handed over to the German defense procurement agency BAAINBw in mid-2018. The contract for the four frigates is worth around two billion euros in total.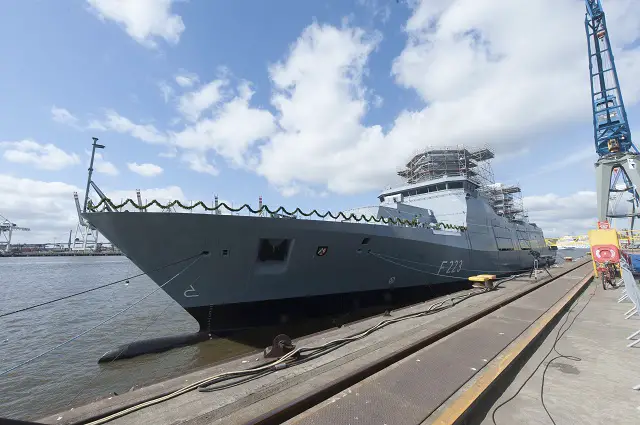 The German Navy frigate "Nordrhein-Westfalen" christened in Hamburg. Picture: TKMS
Premier Hannelore Kraft: "It makes me proud that this ship will carry the name of our federal state across the world's oceans, mooring at many ports as an ambassador for North Rhine-Westphalia. The state government will be pleased to take the opportunity together with the crew of this ship to represent and present our state."

Dr. Hans Christoph Atzpodien, CEO of ThyssenKrupp Industrial Solutions AG: "ThyssenKrupp has its roots in the Ruhr region, so it is even more pleasing that North Rhine-Westphalia is acting as sponsor for the second frigate. The F125 class is a completely new type of ship with innovations across numerous fields of technology. It showcases our leading engineering expertise and points the way forward for German naval shipbuilding."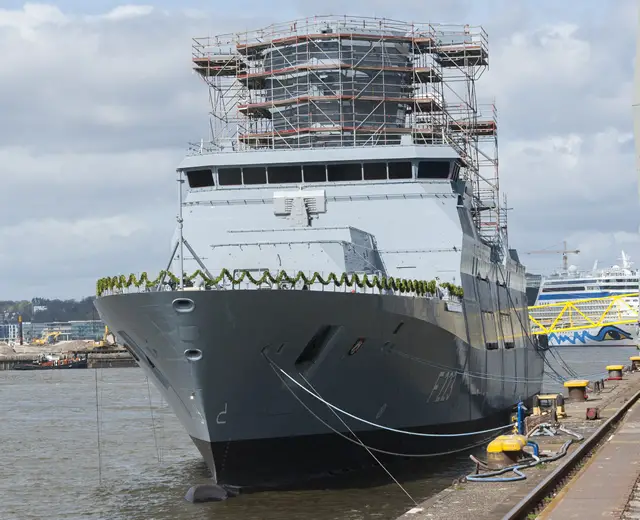 The German Navy frigate "Nordrhein-Westfalen" christened in Hamburg. Picture: TKMS
The ARGE F125 consortium which was awarded the contract to build four F125 class ships for the German Navy in 2007 consists of ThyssenKrupp Marine Systems as the lead company and Fr. Lürssen Werft. The pre-fitted bow sections are being manufactured at the Fr. Lürssen Werft shipyards in Bremen and Wolgast. Construction of the stern sections, the joining of the two sections and further fitting out is being carried out at Blohm+Voss Shipyards in Hamburg.

The four 125 class frigates will replace the German Navy's eight 122 Bremen class frigates. The ships were developed specially for current and future mission scenarios. In addition to the traditional tasks of national and alliance defense, the 125 class frigates are designed for conflict prevention, crisis management, and international intervention and stabilization missions. The ships are capable of remaining at sea for 24 months and will be the first to implement the intensive use principle, i.e. significantly enhanced availability in the area of operation. This capability is supported by a reduced crew size and a two-crew strategy under which the crew can be swapped out on location.

Key data for the F125:
Length: 149 m
Width: 18 m
Maximum speed: >26 knots
Displacement: approx. 7,000 t
Crew: max. 190 (of which up to 120 regular crew members)